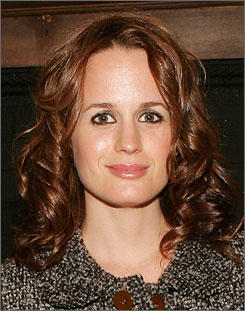 It's hard to believe, but the faces in the photo on the right and the image below both belong to Elizabeth Reaser.
The 31-year-old actress has been introduced on Grey's Anatomy simply as Jane Doe, an unidentified victim of the ferry disaster that sent Seattle Grace surgeons scrambling to salvage survivors.
Heroic Dr. Alex Karev (Justin Chambers) pulled the pregnant woman's crushed, nearly dead body out from under a pylon.
"Her face has been smashed â€" like every bone in her face â€" and there are issues with her chest," Reaser tells USA Today.
"There's a lot of work to be done to put her back together."
Actor pal Justin Kirk, who stars opposite Reaser in the new romantic comedy Puccini for Beginners (and who has been linked romantically to Kate Walsh) has been calling her "Elephant Reaser," a reference to the disfigured lead character in The Elephant Man.
Michael McMillian, Reaser's co-star in last year's short-lived TNT medical drama, Saved, suggested she'd be perfect for the lead role in The Mask 2.
"Some of the jokes are funny," she says, "and some of it's not."
The three-hour makeup process includes prosthetics that have remained on her face for as long as 12 hours.
"You feel claustrophobic, and the chemicals sting my sensitive skin," Reaser said.
The costume also places further restrictions on her vegan diet, allowing only for smoothies or small helpings of soft foods. Reaser says Kate Walsh "has been very sweet, coming up to me asking, 'Do you need water?' "
The actress realizes, however, that any discomfort she is experiencing cannot possibly compare to the horror her character must be facing.
She says she suspects that "it's a very heightened situation, to be all alone like that in a hospital."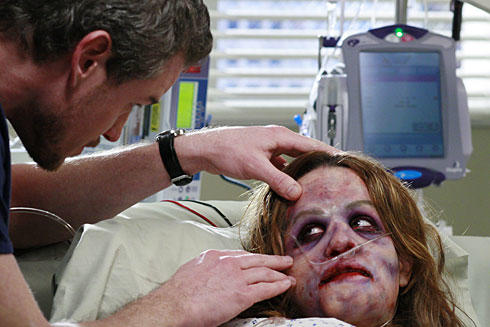 But this Jane Doe is hardly alone.
Her character's multiple medical traumas have the potential to expose her to the hospital's full rotation of docs. We have already seen doom in the eyes of obstetrician Addison, and soon there will be involvement by plastic surgeon Mark Sloan (Eric Dane, above).
The deep concern Alex has demonstrated so far suggests the possibility of a romantic redo of last season's love story between Izzie (
Katherine Heigl
) and her critically ill cardiac patient,
Denny Duquette
.
"I think she's scared to have Alex leave her," Reaser said.
Reports initially had Reaser joining the staff as a psychiatrist - a development that may still take place or may be altogether incorrect. But this we know for sure - in her mysterious role, which is planned to run for about 10 episodes, Reaser must first communicate only through her hazel eyes.
Interestingly, she received acclaim for her challenging portrayal of a German- and Norwegian-speaking immigrant in last year's Sweet Land, though she had never before spoken either language.
Sources say the makeup and special effects that have rendered Reaser nearly unrecognizable so far will gradually give way to her own face as her character slowly recovers.
While in reality, Jane Doe's face would have been in even worse shape after that precise event, with her eyes likely not visible, that would have interfered with the storyline, so Grey's Anatomy medical advisor Linda Klein worked with special effects wizardry couple Tom Burman and Bari Dreiband-Burman to find a realistic middle ground.
"You can shoot our work really tight because of the detail and care that we put into it," said Dreiband-Burman.
Just three months ago, Reaser had her own near-death experience. As she was on her way to Las Vegas with a friend, traffic in Barstow, Calif., came to an abrupt halt, causing her car to fly off the freeway at 65 mph.
"We flipped twice in the air and went down into a ravine," the Michigan native says.
"It was the most insane, horrifying thing. We were in shock, so we couldn't move. We were lying in the desert, strapped down (by paramedics), waiting to be taken to the hospital," she said.
Reaser's Jeep Cherokee was totaled. Amazingly, she and her female friend survived without injury.
"We were a little sore, but not a scratch. When I got this part, it reminded me of the shock and fear that I experienced that day. You just feel so vulnerable."
Vulnerable is also how she feels when questioned about her story line, which has been labeled "top secret" by series creator Shonda Rhimes.
"I'm scared I could get in trouble," Reaser says.
What more could they possibly do to her?
"I guess you're right," she says, giggling. "I suppose I could lose a leg or an arm."
Steve Marsi is the Managing Editor of TV Fanatic. Follow him on Google+ or email him here.