On Tuesday night, American Idol viewers watched Dallas-born Akron Watson score a golden ticket to Hollywood after singing Sam Cooke's "Change is Gonna Come" and Marvin Gaye's "Let's Get It On."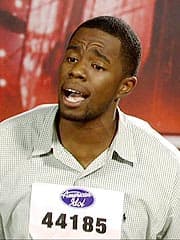 But on Wednesday, news reports emerged that Watson was told three months after his audition by
Idol
producers that he was no longer invited to participate in the competition.
So, what happened?
The 23-year-old singer claims that on Nov. 9, two days before he was set to leave for Los Angeles, he received a phone call telling him not to come.
"From that point I asked why?" Watson tells People magazine. "(The producer) said he didn't have a reason. He didn't know why. He said that his bosses don't divulge that information to him."
TMZ.com reported on Wednesday that it was a prior misdemeanor possession of marijuana charge from 2003 that got him ousted from the competition.
But Watson insists that before auditioning for American Idol, he told producers about his past.
"I was completely open about my background, any trouble I had been in, my medical history – everything!" he sats. "They ask all that information before you audition."
Watson, who's now a full-time student at Collin County Community College in Texas, isn't giving up on his Idol dreams. He's created his own MySpace page to garner support for his story – and is asking people to sign a petition to help him get another shot at going on the show.
"I earned my way in, and you knew about my background, I have no clue why you wouldn't let me go and perform," insists Watson. "It seems like I deserve that opportunity. I still want to know why it is I've been cut. And I still want the opportunity to be on American Idol."
Another contestant, Ashlyn Carr, has ran into legal trouble, as well. We'll keep you updated about her future on the show.
Matt Richenthal is the Editor in Chief of TV Fanatic. Follow him on Twitter and on Google+.