While Antonella Barba photos dominate the news, Entertainment Weekly recently caught up with the four American Idol contestants that are no longer making headlines.
That's because they were voted off the show last week. But let's listen to what Paul Kim, Rudy Cardenas, Amy Krebs and Nicole Tranquillo have to say about their experiences:
PAUL KIM:
So Paul, you've done more than your share of interviews today... Are you so over the bare feet thing?
Yeah, it has gotten a little old. It's turned into some type of gimmick, which it was never supposed to be. That's just me being me, and people think I was trying to get extra votes that way, and I wasn't at all! I've been doing it for, like, five years. But it was cool to see [Ryan Seacrest] do it, too.
Now that you've had a chance to sleep on it, do you regret choosing ''Careless Whisper''?
Yeah, I do. Honestly, it wasn't what I wanted to do. It was sixth on my list of songs. My first choice was Donnie Hathaway, ''I Love You More Than You'll Ever Know,'' but my top five songs didn't clear and so I had to go with option number 6. I wasn't really comfortable with it and on top of that, I got sick and had to lower the key half a step, which made it kind of boring. But I have no excuses. I just didn't sing as well as I should have, that's why I went home. I'm really mad at myself for that, but I did try.
What was ailing you?
I have bronchitis and a sinus infection and was actually quarantined at a different hotel because they didn't want me to get anybody else sick. I have no clue how I got it, must've been lack of sleep or stress. I only slept an hour last night.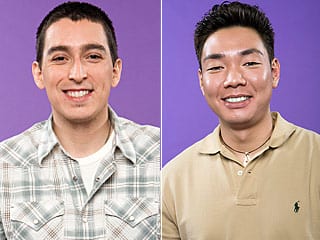 You were very passionate about wanting to represent Asian singers on American Idol. Do you feel your mission was accomplished?
I'm not trying to get political or anything, it's just that we're stereotyped a certain way in the media — where people think all Asian guys wear glasses and are unathletic and really nerdy — that really bothered me.
William Hung
was shown over and over again, and at first I thought it was funny, but then it got to the point where it started getting embarrassing. That really irked me, and I was out to prove that that's not what we look like, it's not who we are as a whole. So I just wanted to bring something new to the table, and hopefully I did do that.
RUDY CARDENAS:
Do you feel like you were at a disadvantage being the first of 12 performers?
I didn't really think about that going in. I just wanted to grab America and be like, ''This is going to kick ass!'' Was it too much? Maybe, but I just wanted to give my all and sing from the heart. I did the best I could. Four people have to go, what are you going to do?
You're a musician, too. Was the group performance hard for you to handle?
It was a little cheesy for my taste, and it's funny that Randy used the word corny for my performance. But that's the thing I love about the show. Obviously, they're doing something right — American Idol is the biggest show to ever air on TV. It may be a little corny, but it's also so much fun!
Have you gotten calls from the people who turned down your band for gigs?
It's funny, my band had to get a sub and is on the road right now without me, and we actually have gotten those calls. Both saying, ''If Rudy's not going to be there, we don't want you anymore'' or ''Hey, I take back what I said, I do want to book you.'' So it goes both ways. But I feel super blessed to be in this position. it's just sad I had to leave a little early.
Amy Krebs:Â 
Your song choice, ''I Can't Make You Love Me,'' turned out to be prophetic, huh?
Yeah. I wish that Paula would've stuck up for me a little bit more because she has in the past. But to have all three judges sort of say the same thing was a huge eye-opener for me. As much as the criticism was probably the hardest thing I've ever had to take, it definitely made me take a look at something that I've always struggled with, which is trying to fit in somewhere and feeling comfortable in my own skin.
And Simon kind of let the entire world know what I'm going through, which was not so fun in front of 30 million people, but I want to do this for the rest of my life and if that's something that's going to hinder me, I want to know about it so I can work on it. It's been a huge growth and learning experience, which is what this show is about for me.
Since Simon did compare your personality to a candle, what scent would you be?
Cinnamon. A little spiciness, you know? It's my favorite — I actually have one burning right now.
Speaking of spice, how about those racy photos of Antonella Barba?
I don't think it's a big deal, personally, but it was something that she probably didn't want to happen. She's dealing with it and has a great attitude about it. We've all become good friends and kind of rallied up around her, but she's doing great.
NICOLE TRANQUILLO:
Randy used the phrase ''too urban'' to describe your performance. How did you interpret that?
To be honest, I don't know — maybe I should ask Randy what he meant. I guess he just thought it wasn't the right song for me, but I had fun with it. I love R&B and soul, that's where my heart is. I don't regret the song; I thought it was very me, and I had a blast doing it.
Did you take anything away from Fantasia's appearance on the show?
That's when it sunk in for me — that ''Oh my God! We're on the show!'' [feeling]. When she performed the song from The Color Purple, she was so incredibly moving. I looked around and a lot of the girls were crying.
Besides your fellow contestants, what will you miss about Idol?
Going shopping with a stylist every week. We'd get a certain amount of money for clothes. That was so much fun and something I'll miss.
Matt Richenthal is the Editor in Chief of TV Fanatic. Follow him on Twitter and on Google+.