Chris Sligh, the early favorite to take home this year's title, recently talked to Tvgrapevine.com. Here are a few excerpts:
Question: I thought it was funny when you said on the show that you wanted to be on American Idol so you could make David Hasselhoff cry.
Chris Sligh: When I tried out this year, I didn't really know that much about the show. So I started to research it and saw all these American Idol blogs talking about (Hasselhoff) crying. And I thought 'Man, that's really genius.' I saw a video of Taylor Hicks singing "Do I Make You Proud" and they cut to David Hasselhoff and he's got a tear rolling down his cheek. I thought, 'That's pure genius.' So when I walked in, that was the first thing that came out.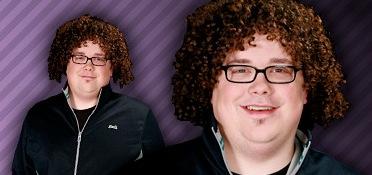 Q
: What was the reaction of the judges?
CS: Well, Simon (Cowell) didn't get it. I guess he hadn't watched the tape back of the show. Randy (Jackson) laughed pretty hard. I had to explain it to them and they laughed even harder.
Q: I heard that your fan base is called the "Fro Patro."
CS: It's definitely an homage to Taylor Hicks' Soul Patrol. Taylor and I both have very distinctive hairstyles, mine happens to be a 'fro. Some of my friends said "You should call your fans the Fro Patro."
Q: Is it true that you changed your hair recently into the 'fro?
CS: In May 2005, I shaved my head. I thought, "I'm going to let it grow and see what happens." So, I haven't had a haircut since May 2005.
Q: A writer for Entertainment Weekly proclaimed you one of the top contenders in this contest. How does that make you feel?
CS: That's pretty odd. I look at the guys, the guys are my competition right now, and holy cow, every one of these in the top 12 could have won last year. It feels incredibly satisfying and a little bit scary to think I'm a front-runner with all these incredible people.
Q: You've tried out for American Idol twice before?
CS: I tried out in Orlando in 2005 and in Chicago last year. Got cut in the very first round both times.
Q: Why do you think you've come so far this year?
CS: Mainly, because of my chubbiness. I'm bringing chubby back. It's also the hair. I grew the hair out and it made me automatically recognizable.
Q: Are you saying you gained weight for this role?
CS: No, I didn't gain weight for the role. I actually lost weight for the role. You see, Randy lost all this weight.
Ruben Studdard
has lost all his weight. I'm here to bring chubby back.
Q: How much weight did you lose?
CS: I've actually lost 20 to 25 pounds so far and, actually, the reason I was late, I was down working my tail off trying to lose some more weight.
Q: It says on your bio that you are a son of missionaries. Is that correct?
CS: My parents were missionaries my whole life. When I was 7, we went over to Germany and I was there until I was 17 and came back to Kansas City, Mo., and graduated from high school.
Q: How long have you been in Greenville?
CS: For 10 years. I came my sophomore year of college to attend Bob Jones University and North Greenville College.
Q: Your bio also says that you are a worship leader (at Seacoast Church in Greenville).
CS: On Sundays, I play guitar in the band, help pick the songs and help lead the worship.
Q: What made you keep trying out for American Idol since you had been knocked out twice before?
CS: I actually wasn't going to try out this year. I had gone through a rough spot with the music and thought maybe music wasn't for me. And then some good stuff started to happen and I got into a new band. I had a friend who said, "This is your last year to try out, since you are 28."
I went down and I was really surprised because I made it.
Click here to read the rest of this article.
Matt Richenthal is the Editor in Chief of TV Fanatic. Follow him on Twitter and on Google+.