On American Idol, Denise Jackson made a name for herself. Literally. She referred to herself as a "crack baby" to Paula, Simon and Randy.
The declaration captivated American Idol's producers. It flabbergasted her family. It made a bystander to the interview cry.
But for Denise - she was telling her truth. The "crack baby" tale is her own. Hers. Just like her singing voice: a rich, soulful sound, untutored and yet knowing, mature beyond her 16 years.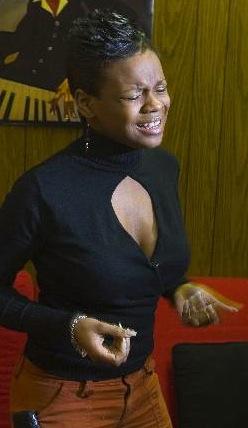 And like her stage presence: so charming, so poised, that it earned the La Follette High School junior nearly four minutes on
American Idol
, centerstage in what has become a 21st century pop-culture phenomenon.
On Wednesday night, Madison viewers will learn whether their hometown girl is among 24 finalists selected on the show to belt it out in the show's sixth season. Denise already has beaten the odds, rising above 10,000 Idol wannabes in a Minneapolis talent search.
But those odds? Nothing. Not compared to her life, which, at times, has been harrowing. A brutal Chicago ghetto. Drug-addicted mother. Poverty. No father.
There's no guarantee she'll make the cut in Hollywood. In fact, chances are American Idol will send a disappointed Denise Jackson back to Madison this week.
And yet, she could surprise everyone.
She always has.
Hard-knock Chicago life
Denise's grandmother, Elaine White, sent her to school for her third-grade class picture in a ruffly pink dress and patent-leather shoes, overflowing at the ankle in a fluff of lacy socks. In the photo - back straight, legs crossed at the ankle - Denise stares at the camera intently, her lips closed in a determined, solemn smile.
"My grandmother always says, 'You're too serious!,'" Denise says with a laugh, a few days after the airing of her first televised "Idol" audition.
Then her mood darkens. "You know how you're supposed to have a childhood?" she explains. In the Chicago housing project where Denise lived off and on, "You don't really get to have that childhood."
With a mother who was largely absent and a father who vanished before her birth, Denise grew up thinking at times that her eldest sister, Nicole, was her mom.
To read the rest of this Madison State Journal article, click here.
Matt Richenthal is the Editor in Chief of TV Fanatic. Follow him on Twitter and on Google+.