There's good news for Fantasia Barrino: the American Idol winner will perform on the stage that made her famous tonight.
But there's bad news for Antonella Barba supporters: she seems to be the most likely to get the boot.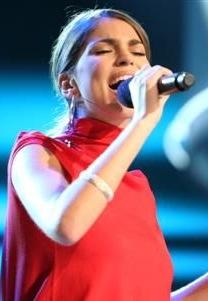 The beautiful singer didn't impress anyone with her rendition of "I Don't Wanna Miss a Thing" by Aerosmith last night. Randy Jackson said: "I have to keep it real, it was really pitchy ... real bland."
And, as you'd expect, Simon Cowell was even harsher:
"The good news is you're an attractive girl; the bad news is it didn't work. It (the song) was way, way, way too big for you."
Of course, the judges have been wrong before. Viewers now have full control over who goes and who stays. Still, Barba backers better heat up those phone lines if they wish to see her last another week.
Matt Richenthal is the Editor in Chief of TV Fanatic. Follow him on Twitter and on Google+.