Do we already have our next American Idol?
After all, Simon did basically tell the 23 other contestants to book their tickets home after Lakisha Jones closed last night's show - and he wasn't alone in his never-ending praise for this star.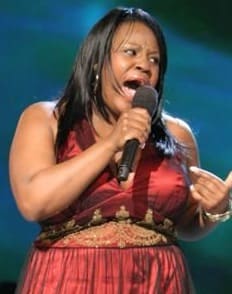 Here are a few samples - taken directly from our comments section - of how you, the viewers at home, felt about this talented single mother after her rendition of a
Jennifer Hudson
song last night:
Honey, you just won American Idol with tonite's performance. You are ten leagues ahead of everyone else. The competition was won by you with Melinda Doolittle as runner up. Gentlemen.... pack it in and go home.
GREAT!!!!!!!!!!!!!!!!!
Wow. Amazing voice. She blew everyone away. And I sat in awe.
If by chance she does not win. I really feel someone will pick this POWERFULL singer up. Bet that.
I will be so happy if she wins. God bless her and her daughter with an easier life.
Tonight America and Canada and the world witnessed the birth of a star. Tonight on television, a cultural event. Lakisha Jones tonight is a star rising over America. It is a one-minute-and-thirty-second moment I will remember for years. And when her album comes out I hope "I Am Telling You..." is on it to keep that memory alive.
Bravo Lakisha! You are clearly this year's winner, but in any case win or lose, you've arrived and I don't think you'll be going back to the bank...at least not as a teller! :)
Matt Richenthal is the Editor in Chief of TV Fanatic. Follow him on Twitter and on Google+.