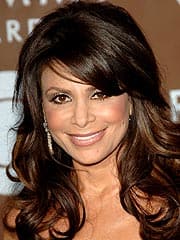 People
magazine recently caught up with our favorite, zany
American Idol
judge. Let's hear what
Paula Abul
has to say:
What does hosting the In Defense of Animals benefit mean to you?
Well, animals are such a huge part of my life. I have five dogs – four Chihuahuas, one Teacup. I love dogs and anything I can do to help rescue and get dogs into adopted family and safe homes that are loving – that's the best thing.
Can you talk about the Top 24, especially Sanjaya Malakar's sad story with his sister (Shyamali) not making it through last week?
It was hard for us to decide whether or not we should either let 'em both go, keep 'em both, or separate them. Toward the end of Hollywood Week, Sanjaya kind of really evolved into his own. We started (filming) with some of the guys already. Sanjaya performed already and he got some harsh criticism, but I think people are going to love him. He's got such a great spirit about him.
All of the guys and girls are really going to have to step it up. It's very nerve-racking to start the show off, and every single year we're always trying to find our groove again and there's no exception to this year, as well.

Simon had spent some time in Africa recently. What was that about?
We're really giving back. We have been given so much joy and love and spreading the celebration of life through song, and there are so many places all over the world that need help. Simon went over to Africa. Randy and I are going over to Missouri most likely and probably New Orleans as well.

Was Simon doing charity?
Believe it or not, we're ALL doing charity work. Simon Cowell – yep. Good old Simon Cowell, even he has a soft place in his heart, I do believe, somewhere. I just have to dig.
Matt Richenthal is the Editor in Chief of TV Fanatic. Follow him on Twitter and on Google+.