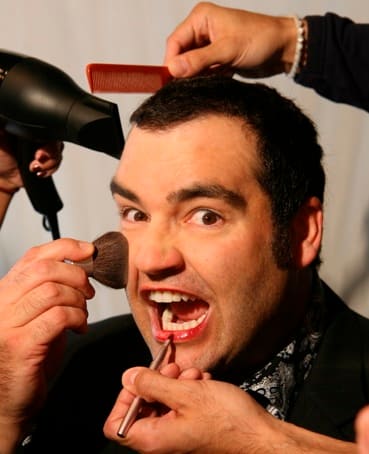 Meet
American Idol
stylist Dean Banowetz (pictured). He recently talked with the blog, Watchingamericanidol.com and answered the following questions:
Do you think America is getting it right so far?
Dean: So far they have gotten it right. The key will be the next two weeks. I so want the bad singers to go so it doesn't seem like a joke to keep a bad singer on.
Some singers have big personalities, and others are lacking in that department. Who, if anyone, is hiding their big personality on stage and keeping it all behind the scenes?
Dean: Everyone is trying to win Miss Congeniality. No one is pulling Diva yet. That will happen after the top 12 are chosen.

In Blake's dedication video, his hair was lacking a spike. What was going on with that?
Dean: [Blake Lewis] is really into trying different things with his hair. He (is willing) to mix it up to get people talking. He is smart; he is working the press angle without talking to the press at all.
There were a lot of tears this week. Who's the most genuine with their emotions?
Dean: It is all real. Every contestant wants it so bad. They want to get into the top 12; they are very emotional about it.
What's the backstage buzz on the [Antonella Barba nude] photo scandal?
Dean: No one says a word about it when she is around and, the second she leaves the room, everyone wants to know if they are real photos. I don't say a word. I don't want photos of me showing up one day.
Matt Richenthal is the Editor in Chief of TV Fanatic. Follow him on Twitter and on Google+.