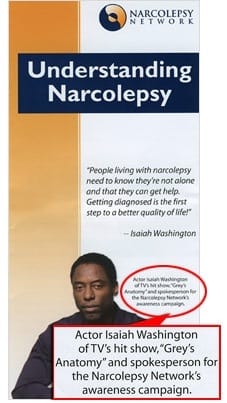 With all the negative publicity
Isaiah Washington
has received over the past few months, we feel it's appropriate to highlight some of the charity work the actor does.
The Grey's Anatomy star became a spokesperson for the Narcolepsy Network last year, spearheading its annual awareness campaign.
Narcolepsy is a chronic neurological sleep disorder caused by the brain's inability to regulate sleep-wake cycles normally.
As many as 200,000 Americans suffer with the debilitating disease.
Although Washington himself is not afflicted with narcolepsy, a close friend of his has the disorder, as Grey's Anatomy Insider reported a year ago when first learning of Isaiah's relationship with the organization.
"People living with narcolepsy need to know they're not alone and that they can get help," Washington's official quote for the group reads.
Fortunately, the negative press of the past few months hasn't affected his work. A representative for the Narcolepsy Network told celebrity news site TMZ that "Isaiah did a great job on the campaign."
Interestingly, the organization's 2007 spokesperson is none other than Washington's Grey's Anatomy co-star, Kate Walsh.
Steve Marsi is the Managing Editor of TV Fanatic. Follow him on Google+ or email him here.