American Idol's winner won't be decided for two months, but last night's 10 survivors get a prize: a spot in the American Idols Live summer concert tour.
That accomplishment, which gets far less attention than making the top 24 or final 12, carries greater benefits: the chance to perform before arena audiences, develop fan bases and earn a six-figure payday.
That's why Stephanie Edwards - eliminated this week - may feel extra bummed, says Jessica Sierra (pictured here, alongside Kevin Covais), who finished 10th in Season 4.
"I think that was the most important thing on everybody's mind, making the top 10," she says. It means, " 'I get to go on tour.' It was bigger than making the Top 12."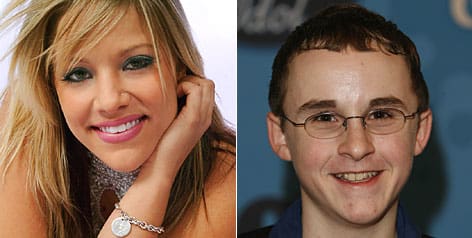 The concert series has grown in popularity over its five seasons. Last year's 59-date, cross-country tour was the year's 12th biggest in box office gross, pulling in $35.2 million, according to Billboard Boxscore. Nearly 650,000 fans attended, filling 96% of available seats.
The first Idol tour featured Season 1's 10 finalists, and the number has remained the same as Idol's last grouping has grown to 12.
"Creatively, 10 feels like the right number. Twelve feels like too many. If Artist X is your favorite and you see them for less than two or three songs, you'd be disappointed," says 19 Entertainment's Iain Pirie.
The singers, who also perform in duets and groups, get a new experience when they perform before large arena crowds, Pirie says.
"These are big shows, potentially a bit daunting, standing on stage in front of 12,000 screaming fans," he says. "By the end, the contestants have learned so much about the art of stagecraft and performance."
At the same time, just missing the tour cut is "a tough pill to swallow," says Kevin Covais, who finished 11th last season. As one of the Top 12, he took part in the season finale and an Idol compilation CD.
"It would have meant the world to me" to make the tour, says Covais, now shooting a Lionsgate film, College. Singing on Idol's Top 12 stage was great, "but it would have been another thing to have the experience of going around the country and seeing the fans who loved you so much."
Sierra, who is talking to labels about her soon-to-be-completed album, says the tour gives singers the chance to meet large numbers of fans and to become better friends with former competitors.
"When we're on the show, everybody is worried about themselves," she says. "When (Idol) is over and we're all on the stage together, it's so much more fun."
That means all remaining competitors, such as Sanjaya Malakar and Haley Scarnato, have a lot to look forward to.
SOURCE: USA Today
Matt Richenthal is the Editor in Chief of TV Fanatic. Follow him on Twitter and on Google+.