American Idol is giving back tonight. But, first, TV Guide's experts are breaking down the ramifications of last week's results show ....
TVGuide.com: Do you feel a sense of relief now that Sanjaya is gone?
Kimberly Caldwell: I feel a sense of relief for him. I think that now the competition can really be taken seriously. But I think that Sanjaya is going to be greatly successful after this, no matter what.
Rosanna Tavarez: Relief?! No! I actually felt for Sanjaya when the little one got booted. He was a contestant who made the most of his experience on Idol and got a lot of attention for his idiosyncrasies (specifically the hair ones). Though I was tough on the guy (like a lot of the more critical viewers), in the end I felt the kid was just doing his best.
TVGuide.com: Were you shocked that he left this week?
Kimberly: I had heard that it was going to be a shocker, so seeing how he hadn't even been in the bottom three lately, I was kind of expecting it.
Rosanna: I wasn't really shocked since he didn't give his best performance. It was, however, a rough week for a lot of the contestants, so judging by previous weeks, I had already resigned myself to not knowing what to expect.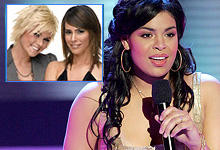 TVGuide.com
: Do you think that the show will do better or worse without him?
Kimberly
: I think the show is definitely going to be more credible with Sanjaya no longer in the competition.
Rosanna
: Great question... um... have no clue. It'll be interesting to see what happens now that we don't have an Idol media saturated with talk of pony-hawks and peach-fuzz facial hair.
TVGuide.com: What the heck happened with the bottom three? How could LaKisha Jones and Blake Lewis have been there?
Kimberly: With Blake, I'm guessing that everybody just figured that he was safe, as always, and didn't pick up their phones to vote. And I think that LaKisha had a rough [performance] this week and was kind of out of her comfort zone so, with only a few left, somebody's got to be in the bottom three.
Rosanna: No kidding! Then again... why did Tamyra Gray get sent home earlier than she should have? And so goes the competition on Idol.
TVGuide.com: What was your opinion on Melinda Doolittle sitting on the stage and not picking a side?
Kimberly: You go, girl! It's the same thing I would have done.
Rosanna: I knew it was coming.... I would have done the same. It's the only sane thing to do.

TVGuide.com: How do you think the contestants did with country week overall?
Kimberly: I think everybody, every year, has a hard time conforming to country week, but I think everybody pulled it off.
Rosanna: Overall they did fine, considering they're not country singers. "Yay, Phil!" by the way... the twang suits him. He should twang in every song, even if it's "Hollaback Girl." Hmmm, that would make a great country song, I think.
TVGuide.com: Did anyone really surprise you this week?
Kimberly: Personally, I thought that even though the judges bashed him, Chris Richardson did a pretty good job right up until he said that "nasally" was a form of singing.
Rosanna: Phil.

TVGuide.com: This seemed like a good week for Phil Stacey. Were you shocked that he wasn't in the bottom three? Do you think he has a chance to win?
Kimberly: I think everybody who's left has a shot at taking it home because it's a pretty equal game at this point. Who knew Phil was a rockin' country boy?
Rosanna: Do you think he has a chance to win? My last two responses answer how I feel about your last two questions. But as for [that] one, hmm....
TVGuide.com
: Do you think it was rude of Simon to be having a conversation while a contestant was talking?
Kimberly
: What isn't rude that Simon does? But I really thought his apology was very sincere and unexpected.
Rosanna
: Did you just ask if it was "rude" of Simon?! That's the only way he operates in most situations.... Come on! He's Simon. So glad, however, that he cleared up the confusion with Chris and the eye-rolling. Some folks thought it was a bit excessive to go into all the detail, but I found it convincing and necessary.
TVGuide.com: Was it appropriate for Chris to mention Virginia Tech at that particular moment?
Kimberly: I think that at any moment of any show, people should be able to send their condolences and prayers out to the victims and their families of this terrible tragedy.
Rosanna: I think he was being genuine, and I'm glad there was some acknowledgement of the incident on the show.
TVGuide.com: What do you think of the way the show handled mention of the tragedy in general?
Kimberly: American Idol is a widely watched and respected show, and I think that everyone appreciated the fact that they stopped the show to send love to Virginia Tech.
TVGuide.com: Anything exciting that you know about the "Idol Gives Back" week? Any surprises?
Kimberly: I'm excited to see everybody because this is going to be a very unique show. I've heard rumors of a duet with two of music's biggest superstars and, supposedly, they've never met before. That's the rumor.
Rosanna: Gwen Stefani and Fergie are going to have a sing/rap-off. Just kidding. Don't know, and if I knew I wouldn't tell you, because then it wouldn't be a "surprise." So maybe I know and I'm not telling. Think about that for a minute.
TVGuide.com: Who are you most looking forward to seeing perform?
Kimberly: I know Pink has already pretaped her number, but I'm a huge fan and can't wait to see what she pulls out of her sleeve.
Rosanna: Gwen Stefani.

TVGuide.com: We've been hearing a bit about contestants breaking curfew. Why is there a curfew in place for the adults?
Kimberly: The curfew is there to make sure that everyone stays focused because everyone's eyes are on the contestants that are left at this point. But, I'm not saying that I didn't break curfew once or twice.
Rosanna: They need to sing a lot, so they're probably trying to take care that no one stays out too late at the saddle ranch screaming at an ear-piercing tone while riding the mechanical bull. It's most likely liability issues.
TVGuide.com: Who do you think at this point will be in the final two?
Kimberly: I think everybody's got a shot at the title, but I think the front-runners are Jordin Sparks, Melinda and Blake.
Rosanna: La la la, tra la la. That's my way of being evasive. I'm hungry.
Matt Richenthal is the Editor in Chief of TV Fanatic. Follow him on Twitter and on Google+.