Thanks to People magazine for this interview with Clay Aiken ...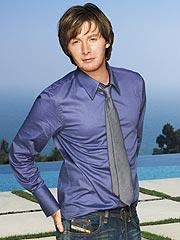 Have you been keeping up with this season's American Idol?
It's the first year I haven't watched it.
Not at all?
Not one time. And I've done it on purpose.
Why is that?
Just don't want to. Too much stress for me. I don't know, I just always get stressed out when I watch it.
Are you stressed out for the underdogs, or just the whole competition in general?
I feel like Idol is a drug of some kind. Like you think you can't live without it until you finally do, and then you realize, "You know what? Life is fine without this show. I'm gonna be okay" (laughs). Not that I've done drugs! 'Cause I realized if I watched the first one, I'd probably not sleep until the next week and I watched the second one. And I just like not having that chain in my life, that I'm tied down to watching it every week.

Do you have a new album in the works?
We are going to be going out on tour this summer. And we're actually looking into making another album pretty soon. This time we're going to do something more creative. And so I'm excited about that, 'cause I'm looking forward to having a little more free reign than I've had in the past. Each time I've done an album, I've had a little more creative control over what happens.
What would you recommend to Idol contestants about making the most of their fame?
I think that where I am today is a direct result of God's plan to put me in each place in my life. Find something that you are passionate about that gives back to your community. I think there's a misconception that really upsets me when people say, "If you're in the public eye you have an obligation to let me know when you're gettin' married, who you're gettin' married to and who you're dating." That's bull. But you do have an obligation to be a role model. From the beginning, I realize I got this only because God wanted me to be here. I think anybody who has any microphone to use who doesn't use it for the benefit of those around him is remiss.
Matt Richenthal is the Editor in Chief of TV Fanatic. Follow him on Twitter and on Google+.