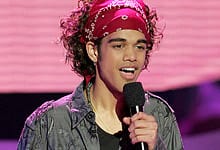 Simon Cowell
may not be the only one sick of Sanjaya-mania.
American Idol contestant Sanjaya Malakar was booed by the crowd at a recent Dodgers-Padres baseball game in Los Angeles.
"He was just sitting there having a good time with his friends, just like a regular person. And when the Dodger camera noticed him, the cameraperson ran over and taped him."
"Sanjaya's face pops up on the big screen right away. At first he smiled, he seemed to like the attention. But then the entire crowd at the stadium started to boo and it was loud! His smile faded a bit and his eyes looked sad," said an eyewitness who was at the Dodger stadium to watch the game.
"It's like he was trying to keep a fake smile on, but you could tell he was crestfallen. He just kept waving and smiling for a few seconds more then his image went off the screen," added the eyewitness.
Awww, that's too bad. We don't want Malakar to be hurt. But it is time for him to tonight. Let's leave the competition up to actual talents, such as Melinda Doolittle.
Matt Richenthal is the Editor in Chief of TV Fanatic. Follow him on Twitter and on Google+.