After being eliminated Wednesday night, Sanjaya Malakar sat down with Entertainment Weekly for an interview ...
Let's start with the positive. I love how you changed the lyrics of ''Something to Talk About'' to say ''other than hair'' instead of ''how about love.'' Did you plan that?
It was kind of on-the-spot. I was basically saying, ''Come on, America. There are so many more important things you can be talking about other than my hair.'' Because there are a lot of intense, important things going on. I just wanted to put that out there.
You hadn't even been in the bottom three for weeks, and then all of a sudden you got voted off. Were you shocked?
When I saw the show on Tuesday I felt like I was going home. I tend to be psychic because my name means ''Spiritual Psychic.'' If I am in any way, that was the point where it showed. I felt it in my bones that I was going home. On Wednesday I was just down in the dumps. People were coming up to me all day and saying ''What's wrong?'' I would say ''Nothing.'' I was just really quiet.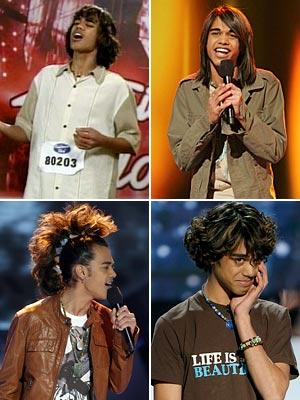 I love that you didn't try to hold back the tears after Ryan Seacrest announced you were going home.
It was sad. We've all become such a close family. We see each other all day, the contestants and the staff. To leave them is really hard. That's the hardest part of getting cut. When I was crying it wasn't even like I'm so sad for getting voted off. It was more that I was so sad to be leaving these people.
You hugged LaKisha Jones for a long time. Did she say anything that was especially comforting to you?
She just said, ''Stay strong and keep going because you're gonna be big.'' I really love every one of them with all my heart. I'm glad I was able to be in this show because they're all genuinely good people. It's hard to find people like that and I found it on a whim. I didn't even plan on auditioning. It was like, they're coming to the Seattle Center and I was like, ''Hey I can sing. Let's go!''
You're only 17 years old. I can't imagine having gone through everything you went through — for better and for worse — at 17. How did you cope?
My family was definitely a huge support and a really big reason I was able to stay for so long. Also, I didn't let things get to me. I knew if I did I would drive myself crazy. It's gonna happen. There are always haters and there is always support. If you focus on the hate it's gonna drive you crazy. I tried to focus on the positivity in everything, whether it was a negative comment or bad publicity. I tried to learn from everything that happened and being on this show was a huge learning experience.

Does that mean you found the positive in the Vote for the Worst website and the fact that Howard Stern wanted to bring the show down by encouraging his listeners to vote for you?
If someone is gonna vote for me on Vote for the Worst they're maybe gonna vote once or twice. Even if a million people vote once or twice, that's not going to make a dent in how the real fans vote. I feel like I got where I was because of my fans.
Let's talk about one of them: That shaking, crying girl. Were you completely freaked out when you saw her or did you think it was cute?
It wasn't that I couldn't cope with it. It's just that it seemed so unnatural. I'm just Sanjaya from Seattle. I haven't changed. It was odd. It's great though because I want to be in this business and fans are what keep you going. Any support I can get I embrace.
Did you find you had that impact on other people you met on the street?
Yeah, once I went to the Beverly Center and I had just walked in with my Mom and all of a sudden there was the Redlands cheerleading squad there. They were like, ''Oh my God! You're Sanjaya!'' Luckily one of the other contestants was shopping there so there was security. They swooped me up before I got mobbed. It was kind of scary. That was the first time I realized I had fans. It was odd.
Let's talk about your hair, even though there are more important things going on in the world. Were those 'dos your idea or someone else's?
I do have great hair, I have to admit. When I first came in I had long hair and I just wanted it to look good and look presentable on TV. I think people want to connect something to each contestant and that thing people connected with me was my hair. Once that became my thing I just played on it. It was fun. I enjoyed every minute of it.
I know sometimes the judges make time to talk to a contestant after he or she is voted off. Did you get to make peace with Simon Cowell after the show?
I didn't talk to him afterwards but from the beginning I felt like he saw potential in me. I think he wanted me to do well when he first heard me. That's what his comments were all based on, disappointment rather than loathing. He's a really nice guy. He really has a good heart. He's just very honest and blunt.
So what happens to you now? Do you go back to Seattle and go to your prom?
I got my GED so I'm not going back to high school. I want to go to college. I'd love to get into Berklee School of Music. That would be my dream. I want to continue my education and my career. I'd love to focus on music and maybe go into acting and modeling. I just want to experience everything.
Matt Richenthal is the Editor in Chief of TV Fanatic. Follow him on Twitter and on Google+.