Thanks to People magazine for this behind the scenes report on Dancing with the Stars from this week ...
Icing on the Cake: They earned the season's first perfect score (a solid 30 on their samba), but Julianne Hough and Apolo Anton Ohno were baffled about how best to celebrate it. "Sushi," Hough enthused. "How about Sprinkles Cupcakes?" Ohno retorted, referring to the Beverly Hills bakery. Why not both? "Oh no, I have had one too many treats this week," he said. Guess it is hard to top perfection ...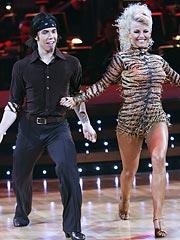 Dad Is Looking Ripped
: Miley Cyrus (a.k.a. Disney's Hannah Montana) is impressed with dad Billy Ray's new dancer physique. "He's looking buff," she said. "He came out to dance tonight and I was like 'Snaaap. Look at those arms.' And he's got a six pack now. We go swimming every day in our hot tub and he's got little abs. My brother better watch what he says now because Dad is looking ripped." Meanwhile,
Ian Ziering
says he's down 18 lbs. "You immerse yourself in dance and you start looking like it!"
Heather's Wipe-Out: "I'm sure the audience loved it," Heather Mills said after falling on her tush during her samba with Jonathan Roberts. "I'm glad to finally get it over with â€" there you go, there's the bet!" Laughing off the mistake, Mills, who had viewers wondering if her artificial leg could hold up through all the strenuous dance moves, added: "I'm used to it."
Talk with the Hands! After the judges harshly criticized Ziering and Cheryl Burke on-air (though they did receive a solid 24/30 score), host Tom Bergeron asked the panel if their performance really warranted such strong words. Absolutely, nodded Len Goodman and Carrie Ann Inaba â€" both of whom then spread their arms wide to show the kind of oomph and open-gesturing Ziering could use.
He's a Leg Man: John Ratzenberger bared his muscular legs during his video package with partner Edyta Sliwinska. So what's his secret to great gams? "He rides his bicycle to the dance studio," Sliwinska says. "He's very strong." Ratzenberger proudly smiled and declared, "They're like oak trees."
T.M.I. Alert (Thanks, Jonathan): "Women are much tougher than men," professional Roberts admitted to People, and he's got the ingrown hairs to prove it after having his chest waxed on the show. "Wow. Don't need to do that again." Joey Fatone says he'd never follow in Roberts's footsteps. "I manscape. No waxing for me, no shaving. Trim, baby, trim," Fatone says.
Rumba'd the Wrong Way? As Laila Ali's rehearsal video rolled, her fiancé, former NFL football player Curtis Conway, looked a little perturbed that her rumba with partner Maksim Chmerkovskiy was a little too sensual â€" but it was all an act! "He did a good job," Ali says. "He makes those faces really well." Afterward Conway startled Chmerkovskiy from behind during his post-performance interview, prompting Bergeron to joke, "Maks needs to change his pants."
Matt Richenthal is the Editor in Chief of TV Fanatic. Follow him on Twitter and on Google+.