Thanks to USA Today for this summary of last night's performances. A certain staff member of American Idol Worship celebrated a birthday, preventing us from recapping the show as usual ...
1. Jordin Sparks, To Love Somebody: Best song, best version, very impressive control and strength, the easy standout.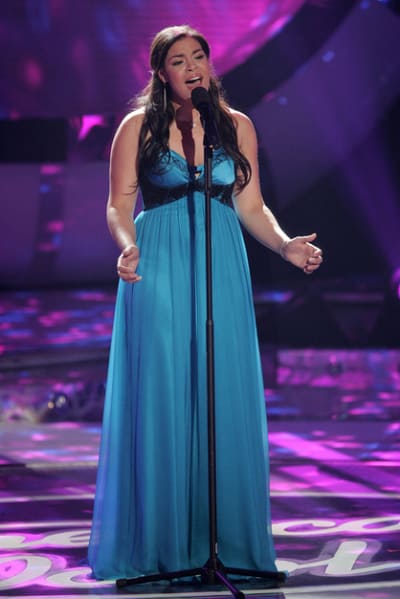 2. Jordin, Woman in Love: Quite a ways behind No. 1, and only slightly ahead of the next two, but it gets the edge because it had an appealing melodic quality to it.
3. LaKisha Jones, Run to Me: Not one of my favorite Bee Gees songs, but LaKisha uncovered some nice nuances. Too bad it was a little stagy near the end.
4. Melinda Doolittle, How Can You Mend a Broken Heart: A bit sluggish but an impressive, if slightly messy, workout at the end. Close race for 3 and 4.
5. LaKisha, Stayin' Alive: Not a good version, but give her a bit of credit for daring to rearrange it a bit, and it's still an enjoyable song (except when Hollywood stars lip-synch to it).
6. Melinda, Love You Inside Out: Possibly her most lackluster performance all year. Barely ahead of No. 7.
7. Blake Lewis, You Should Be Dancing: Anything but singing. I didn't mind the beatboxing, but the falsetto was weak and there was none of the crazed dancefloor jitters that saturate the original version.
8. Blake, This Is Where I Came In: If you knew the song, you'd be even less impressed than the judges, who didn't know it, were. Thoroughly weak.
Matt Richenthal is the Editor in Chief of TV Fanatic. Follow him on Twitter and on Google+.