A Melbournce cyber stalker who harassed and blackmailed an American Idol star walked from court yesterday.
Tanya Maree Quattrocchi, 21, of Oak Park, was released on a community-based order and ordered to serve 150 hours of community service after she was convicted of stalking and blackmail.
The County Court heard Quattrocchi was obsessed with pop singer Diana DeGarmo, 19, and hounded her with unwanted phone calls and text messages before stealing her identity.
Quattrocchi phoned DeGarmo 369 times and sent her 570 text messages between March and June last year, the court heard.
One text message read: "I could kill you before you could even lay a finger on me. "I know I'm out of line here, but I don't give a f..k. How badly do you want to kill me right now? Bring it on bitch."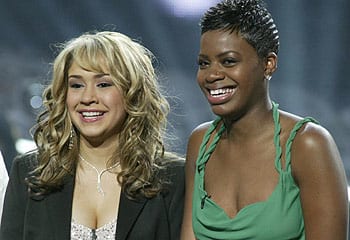 Judge Lisa Hannan said Quattrocchi had spiralled out of control and only stopped harassing DeGarmo when she was caught by police.
"It must have been quite terrifying for the victim," Judge Hannan said. "Her life was invaded by you and her rightful sense of security stolen from her."
Prosecutor George Slim told the court Quattrocchi hacked into DeGarmo's MySpace page and pretended to be her in emails she sent to the singer's family and friends.
She also used DeGarmo's credit card to subscribe to pornographic websites.
Shortly before her arrest last June, Quattrocchi demanded $18,000 from DeGarmo and threatened to release the singer's newly recorded songs if she didn't get the money.
The court heard Quattrocchi had a limited intellectual ability and had scored an ENTER score of just 16 when she graduated from Ave Maria College in Aberfeldie.
Defense counsel Kellie Blair said Quattrocchi, who was studying website administration last year, was shy and spent most of her time on the computer. The court heard she came from a loving and supportive family and there was nothing to explain why she had tormented DeGarmo.
Ms Blair said Quattrocchi, who pleaded guilty to the charges, was remorseful for the anguish she had caused DeGarmo.
The American Idol singer, from Atlanta, was the 2004 runner-up to Fantasia Barrino and is performing in a musical called Hairspray.
DeGarmo and her mother, Brenda, submitted victim impact statements to the court. The court heard DeGarmo alerted the FBI to Quattrocchi's harassment in June 2006.
In sentencing Quattrocchi, Judge Hannan acknowledged her poor intellectual and social skills, and said she had good prospects for rehabilitation.
Matt Richenthal is the Editor in Chief of TV Fanatic. Follow him on Twitter and on Google+.