Remember when we said - yesterday - that Kelly Clarkson would need to go back to the studio for her third album.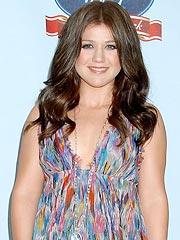 Yeah. We were joking. Despite rumors that executives at RCA were so disappointed with her new music they decided to scrap the Idol's third album, My December will be released on July 24.
The CD, produced by David Kahne, is back on track and pleasing critics.
A Los Angeles Times writer praised "the succulent, slightly dark timbre of [Clarkson's] alto" as well as "her ability to nail those shirt-ripping high notes."
"It is very aggressive," Clarkson told the paper. "And it might be too much. But I just needed to be able to make this record and not have so many hands in the cookie jar saying, 'Pull this string, pull that string.' I was like, 'Just give me this one thing, and I will make whatever record you want next time.' Now, I need this, for me."
Fans don't seem disappointed. The first single "Never Again" debuted last week at No. 8 on the Billboard Hot 100 chart.
They will get to hear more new tracks like "Haunting," "Chivas," "Be Still," "One Minute" and "Sober" when Clarkson showcases her new material during a summer tour that begins July 11 in Portland, Ore., and runs through Sept. 26 in Los Angeles.
Matt Richenthal is the Editor in Chief of TV Fanatic. Follow him on Twitter and on Google+.