Just imagine. Kim Kardashian, and her lovely extended family of nine other kids, living all together on TV. Is there any better formula for ratings success?
Besides releasing a sex tape of yourself and your ex-boyfriend?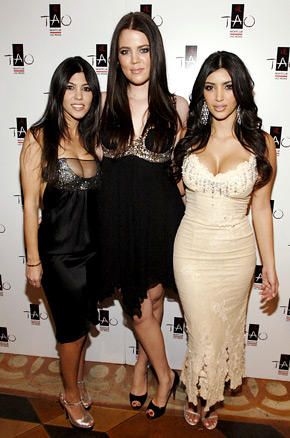 In any case, that's the premise (the first part, not the sex tape) of an upcoming reality TV show that will focus on the life and times of Hollywood's infamous Kardashian clan.
Kim, seen here with sisters Kourtney and Klohe, is the former pal of The Simple Life star Paris Hilton. As such, she's never one to shy away from the spotlight.
Sources report that E! is in the running to produce a show about the Kardashians, parented by step-father Bruce Jenner (the father of reality show veteran Brody Jenner) and mother Kris Kardashian.
Both are former divorcees who merged into a mega-family (with kids ranging in age from 9 to 28) that wants to open up to cameras.
No doubt Spencer Pratt will find a way to weasel onto the show.
The network has no comment, but Brody, who starred on both The Princes of Malibu and The Hills, as well as in the love life of former Laguna Beach queen Kristin Cavallari, is surely pumped.
"It's the modern-day Brady Bunch," says an insider. "The show will reveal the crazy dynamics of all of them and their dramas."
So it's like The Real World: Kardashian. Or something.
Too bad the cameras weren't rolling when Kim found out her ex, Ray J, leaked a sex tape featuring the pair. Now that would've been some drama.
Matt Richenthal is the Editor in Chief of TV Fanatic. Follow him on Twitter and on Google+.