How does Shanna Moakler feel after this week's Dancing with the Stars? Let's find out!
Oh my God!!!!!!
I almost fell off the couch when they called Joey's name into the bottom two. I figured that Billy Ray might be in the bottom this week, but I never expected Joey Fatone to be there. I have a funny feeling you guys aren't voting. Don't forget those votes really do count ... Get on the phones!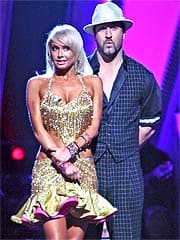 As for Billy Ray and
Karina Smirnoff
, they had to cut them eventually because, at the end of the day, it is a dance competition, which you sometimes forget because you fall in love with the couples. I am pretty sure, though, that Billy Ray did have a good time and he knew he wasn't the best dancer. He did try his best and, hey, he got really far. Look at how many people he beat!!!
This week's dances were FANTASTIC! Apolo and Julianne Hough stole the show. Wow, now I am in trouble ... I thought Joey might have had this contest in the bag, but I may have spoken too soon!! Now I'm thinking it's anyone's game. It makes the competition so exciting. Everyone has really stepped up their game and anything is possible. Joey's first performance really showed how great a dancer he is. He didn't put anything fancy in his dance and it looked absolutely beautiful. He's definitely going to the finals.
Laila and Maksim Chmerkovskiy's dance was great as well. I liked that they put on a little show. That's how they make it their own. Of course everyone can do the required part, but it's always nice to see how they add their personalities to it.
So I am sticking with my final three: Laila, Apolo and Joey. And depending on each of their dances it could really go to any of them. In my own way I want them all to win, but we can only have one so we will have to see what the next weeks bring us â€" and I'm sure I will change my mind again!!!
Matt Richenthal is the Editor in Chief of TV Fanatic. Follow him on Twitter and on Google+.