It's never too early for information about American Idol 7, is it?
As USA Today reports, local auditions for the next Idol are already scheduled. Here are further details:
Just a month after American Idol winner Jordin Sparks was showered with confetti on the Kodak Theatre stage in Los Angeles, the top-rated Fox series is gearing up for Season 7 auditions.
San Diego, a first-time audition site, will kick off the seven-city tour July 30. New audition cities Omaha, Charleston, S.C., and Philadelphia join Dallas, Atlanta and Miami on the tour, which last year attracted 100,000 hopefuls, according to Fox estimates.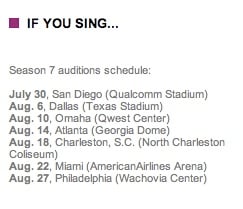 "We do like to see America," executive producer
Nigel Lythgoe
says of the annual search for vocal talent. Smaller cities, such as Charleston or an earlier site, Greensboro, N.C., "produce some wonderful stuff."
The tryouts will start a week earlier than last season because producers also will be conducting auditions for a new Fox reality series, The Search for the Next Great American Band.
Atlanta, Charleston, Dallas and Miami may bolster Idol's typically strong Southern flavor. Last season's finale, when Arizona's Sparks bested Washington state's Blake Lewis, was the first without a singer from the South, which provides one of Idol's largest fan bases.
After battling the elements in some earlier seasons, Idol will hold most auditions indoors, save for Qualcomm Stadium in San Diego and Dallas' Texas Stadium, which has a partly covered roof.
As with past audition tours, Idol producers will narrow each city's field to 300 to 400 of the best and worst singers. Lythgoe and co-executive producer Ken Warwick will then cull to about 120 per city to sing to judges Simon Cowell, Paula Abdul and Randy Jackson.
Producers want to find a way to make sure more good singers make it through the initial auditions and the Hollywood round and into the final 24.
"Too many slipped through the net," Lythgoe says, adding that no big changes are planned.
Matt Richenthal is the Editor in Chief of TV Fanatic. Follow him on Twitter and on Google+.