Big Brother will be even more omnipresent than usual this summer.
The long-running reality show's three-nights-a-week CBS broadcast schedule will be accompanied by a live, unedited feed that will air nightly on one of CBS' cable subsidiaries.
CBS has announced that Big Brother 8 will premiere Thursday, July 5, while its Sunday and Tuesday editions are scheduled to debut on July 8 and July 10.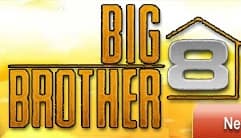 In addition to airing three times weekly on CBS,
Big Brother 8
will also feature a live, unedited feed that will broadcast nightly on Showtime Too, a secondary channel of Showtime, the pay cable network that became a CBS Corporation subsidiary after CBS split from Viacom in 2005.
Titled Big Brother: After Dark, the spin-off will air nightly from midnight to 3 a.m. and feature footage from the same live camera feeds that are made available to subscribers of the show's 24/7 live Internet feeds.
"That's primetime for the Big Brother house," executive producer Allison Grodner told Variety. "It's when our house guests are most wide awake and having fun, talking about strategy and playing the game."
Although After Dark's feed will reportedly be interrupted if the houseguests "say anything slanderous or that violates music copyrights," the fact that the Big Brother footage will be airing on Showtime - a cable network that's not subject to FCC restrictions - means that profanity and nudity will be broadcast.
"People are going to see quite a bit," Grodner said.
In addition to its new After Dark spin-off and return of the show's traditional live Internet feeds offering, Big Brother's eighth season will also feature the return of House Calls, the Gretchen Massey-hosted Internet talk show that CBS.com debuted during the show's fifth season in 2004, and Julie Chen, the CBS news anchor who has hosted all eight seasons of the show.
With Big Brother 8 taking over CBS' Thursdays at 8 p.m.time period, Pirate Master, Mark Burnett's new reality competition, will relocate to Tuesdays at 10 p.m. beginning July 10.
Matt Richenthal is the Editor in Chief of TV Fanatic. Follow him on Twitter and on Google+.