The star of Bucky Covington continued to rise as this week the video for his debut single "A Different World" reached the #1 spot atop CMT's Top 20 Video Countdown.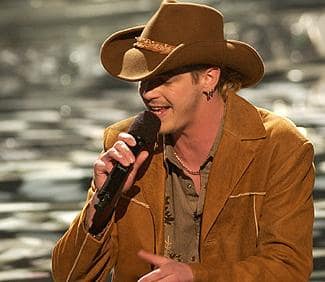 Also this week, the video returned to the top of CMT's fan-voted online Pure Country playlist, where it debuted at #1 in March of this year.
The American Idol Season 5 finalist is fast establishing himself as country music's hottest new artist, having sold in excess of 140,000 copies of his self-titled debut CD since its release last month. Bucky Covington debuted at #1 on Nielsen SoundScan's Country Top 75 Chart on April 25, with not only 2007's biggest unit debut from a new country artist, but also the best first week sales and highest Top 200 debut for any new male country artist since Billy Ray Cyrus in 1992.
Next week, Covington will guest on ABC-TV's Good Morning America on June 7 when the program broadcasts from Nashville for the CMA Music Festival kickoff.
Covington will join GMA Weather Anchor Sam Champion for a live report from the rooftop patio of Nashville's Graham Central Station, overlooking the Festival's concert venues. Covington will mark his first-ever appearance at the CMA Music Fest with two live performances: he will perform a full-band set from the Daytime Stage at Riverfront Park on June 7th, and on the 8th he will perform an acoustic set from the stage of LP Field, home of the nightly concerts.
After Music Fest, Covington hits the road for a summer of non-stop touring, including several shows opening for Sawyer Brown. SB frontman Mark Miller teamed up with Dale Oliver to produce his debut album, Bucky Covington.
Matt Richenthal is the Editor in Chief of TV Fanatic. Follow him on Twitter and on Google+.