Jordin Sparks will make one of her first major appearances since winning American Idol next week during Macy's Fourth of July Spectacular, the annual holiday special on NBC. She's excited and nervous about the opportunity.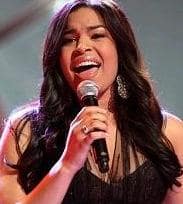 "I'm so excited to do this program," Sparks said. "I have no idea what I'm going to be doing on it, and right after that, I leave to start the tour. It's going to be so much fun, I can't wait to get started on all of it."
Fellow finalists Blake Lewis and Melinda Doolittle will also perform on the Independence Day show. Also scheduled to appear are Martina McBride and Joss Stone, while Natalie Morales and recent NBC hire Tiki Barber will host.
"It's kind of tripping me out," Sparks said. "You watch it on television and think it's such a big event. I love the fourth of July. Melinda actually was the one who told me we were going to be doing this, and I said, 'What are we going to (sing)?' She said, 'I have no idea. We'll talk about it later.' I just love her and Blake; we have such a good time when we're all together."
The occasion will allow Sparks to be in one place for a while. A few weeks ago, "everything was going so fast, I was like, 'Oh, my gosh. I really just need to sit down.' So I did, and I thought of everything I'd done, and it all just hit me. It was unbelievable, and it's still a whirlwind sometimes. It's just this crazy cycle."
It won't abate with the American Idol Live tour that launches July 6, in Sunrise, Florida, and continues through late September.
"It's going to be a blast," Sparks said. "Most of us are going to be doing songs we know we can succeed in doing and that we love to perform. There will be different groups and duets. I went to the season-four Idol tour, and this is so much different. It's going to be really intense, so I hope people come out and see us."
We're somehow guessing that won't be a problem.
Matt Richenthal is the Editor in Chief of TV Fanatic. Follow him on Twitter and on Google+.