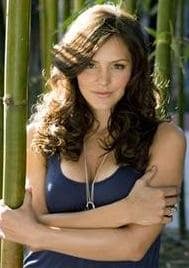 Katharine McPhee
fans are outraged that the former contestant was treated rudely on a Washington D.C. radio station. Now the show's DJ, Kane, is hitting back.
McPhee was interviewed by an intern named Ally on Hot 99.5's The Kane Morning Show. The interview was supposed to be in the studio and the station had agreed that McPhee wouldn't be asked any personal questions.
But McPhee didn't show up at the studio — handlers explained that her flight had been delayed — and one of the first questions the intern asked the 23-year-old singer was about her 42-year-old boyfriend. The intern asked if having a boyfriend who was so much older hurt or helped the relationship.
An obviously irritated McPhee said she didn't want to discuss her private life and the interview went downhill from there.
Angry fans deluged Kane with hate mail. "Maybe she should have been nicer and been live as she promised," Kane replied to some of them.
The angry calls and e-mails kept coming, and Kane shot back a lengthy response at those backing this finalist from season five of American Idol.
"I'm getting increasingly frustrated by e-mails from McPhee fans that don't know the whole story and are writing me angry e-mails," Kane wrote to them, scolding, "It makes Kat look bad when ever other word in your e-mail about how you thought we didn't handle the interview professionally starts with an f---."
He went on to describe in detail a scenario in which he said McPhee was pitched to the radio show on the condition that she appear live, that the appearance be pre-promoted, and that there would be no personal questions. He also challenged the excuses he was given for her failing to appear live — pointing out, for example, that the flights from L.A. to Washington weren't delayed that morning.
"Slam us, go-head," Kane wrote. "We agreed to have her on; we followed the rules. They didn't tell the truth. Kat could have had a little more fun with Ally. She could have said, 'You guys know you're not supposed to ask me personal questions. What's wrong with you?' Rather, she just got mad."
Matt Richenthal is the Editor in Chief of TV Fanatic. Follow him on Twitter and on Google+.