Kellie Pickler and Canadian hockey player Jordin Tootoo have a lot in common. Most importantly?
"We're each other's biggest fans," the former American Idol singer says.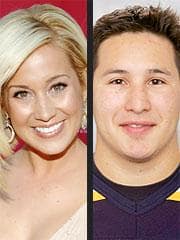 Pickler the Nashville Predators right wing met after they bought condos in the same Nashville complex, where Tootoo spotted Pickler and asked for her phone number.
Pickler tells People magazine they were friends at first, but the relationship had turned romantic by spring.
"We're from real different places, but they're both small towns so we're a lot alike too," she says (she's from Albemarle, N.C.; he grew up in Rankin Inlet, a small town in Nunavut in Canada's Northwest Territories).
Now, she says, "We let each other shine in our moments and are so proud of each other. I go to games and I'm the fan in the Predators jersey, screaming my head off. He comes to my concert with a Pickler t-shirt and he does the same."
Awwww. It's like another athlete/Idol couple, we assume: Tony Romo and Carrie Underwood.
Fittingly, Kellie and Jordin's first date was to a hockey game, a sport about as foreign to Pickler as Tootoo's native tongue, Inuktikut. (The first player of Inuit descent to play in the NHL, Tootoo is also fluent in English.)
"We had a little communication problem at first," Pickler says with a laugh. "And I had never been to a hockey game – we didn't have hockey in Albemarle. I had no idea what was going on, but I loved it anyway. It's so fast and exciting!"
On Thursday, Pickler will take a break from Brad Paisley's "Bonfires and Amplifiers" tour and travel way north of the border to spend a week with Tootoo and his family.
"I'm just so excited about seeing where he is from," she tells People. "It will be a totally different culture and I'm fascinated by other cultures. I have no idea what to expect. I know they do a lot of hunting and fishing and they eat what they kill. It's not like there's a Subway down the street. It's also been snowing up there, so I'm going to learn to drive a snowmobile. If it's anything like 4-wheelin', I'm set!"
Matt Richenthal is the Editor in Chief of TV Fanatic. Follow him on Twitter and on Google+.