The Washington Post recently ran the following review of Kelly Clarkson's new album, My December...
The angsty and intense scorned-girl rock of "My December" comes across like a lesser version of Alannis Morissette's music circa "Jagged Little Pill" (with shades of Pat Benatar, too). It's confused and angry and anguished, featuring crunchy power chords, crashing drums, a little bit of distortion and more than a few digital studio tricks. The therapeutic, highly produced sound of cathartic release, in other words.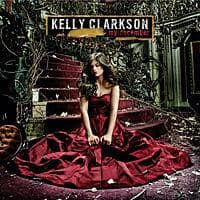 "I hope the ring you gave to her turns her finger green," Clarkson hisses on "Never Again." "I hope when you're in bed with her you think of me."
On "Haunted," she's back to moping: "I'm still stuck in this moment of wanting you here."
Then again: "It's over, / It's over, / It's over !" she declares on "Don't Waste Your Time."
The songs might work better if not for the fact that, as a writer, Kelly Clarkson doesn't seem to have a particularly strong sense of melody. Most of these songs don't suit her voice particularly well, and they tend to drone on, too, with a few exceptions: "Be Still," a gentle, almost jazzy lullaby whose lyrical phrasing echoes Edie Brickell, of all people; "Yeah," a sinewy soul song sassed up with R&B horns; and the quiet, contemplative "Irvine," on which Clarkson sings directly to God over an acoustic guitar.
Otherwise: Eh.
Clarkson sounds shrill throughout "My December," which is surprising, given just how gorgeous her voice can be. Consider her stirring version of "Up to the Mountain," on which she lays a soaring, emotion-drenched vocal over churchy piano and Jeff Beck's bluesy guitar licks.
Written by Patty Griffin and performed by Clarkson this year on American Idol, the song is a stunner, falling squarely in the young singer's sweet spot.
Unfortunately, while the live performance was released as a charity single, it's not included on "My December."
It's admirable - laudable, even - that Clarkson wanted to take control of her artistry, but she's a much better singer than songwriter. No shame in that, but maybe the next time she wants to express herself, in her own words, she might consider blogging about her feelings.
Matt Richenthal is the Editor in Chief of TV Fanatic. Follow him on Twitter and on Google+.