Kelly Clarkson has parted ways with her manager, Jeff Kwatinetz of the Los Angeles-based company The Firm, People magazine reports.
A spokesperson for The Firm says, "Kelly Clarkson is an enormously talented artist. We are pleased to have served as her managers during her well-deserved rise to stardom and are proud of the role we played in backing her creative choices.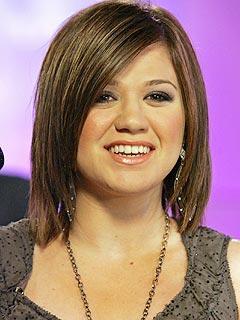 "We believed in Kelly from the day we met her and believe in her now. We have only the best wishes and hopes for her in the future."
The news of changes in Clarkson's team comes as she prepares for the June 26 release of her new album, My December – the first album she co-produced and wrote entirely.
Meanwhile, the industry has been buzzing about turmoil between the singer and RCA chief Clive Davis, who reportedly voiced concerns that My December didn't have a guaranteed radio hit.
Kwantinetz recently defended Clarkson, telling Entertainment Weekly: "In a time when record labels are under increased economic pressures, they get nervous when a big-selling artist like Kelly wants to take risks and evolve. The pressure they put on this young woman to compromise herself and do another version of the same record, I've never witnessed in my career.''
Even Simon Cowell weighed in, defending Clarkson for her artistic integrity and noting of My December: "It's not as commercial as her last record, but any Kelly Clarkson record at the moment is a pretty good record compared to the competition because she's an incredible artist."
Clarkson's first single from My December, "Never Again," peaked at No. 8 on the Billboard charts, a disappointment after Clarkson's No. 1 smash, 2004's "Since U Been Gone."
Sources at RCA say that, despite reports, the label plans to support Clarkson's album release and nationwide summer tour, which begins July 11. "I'm really proud of this album," Clarkson tells People. "My previous albums are great albums. But this one is very intimate."
Matt Richenthal is the Editor in Chief of TV Fanatic. Follow him on Twitter and on Google+.