LaKisha Jones got to feel the love from about 1,500 excited fans at her long-awaited homecoming rally Saturday at Atwood Stadium.
"Kisha! Kisha!" the crowd chanted on their feet, waving posters, clapping and yelling as Jones, sporting a new bob, walked out onto the 50-yard line, near the word "Flint" in large letters, and grabbed a microphone.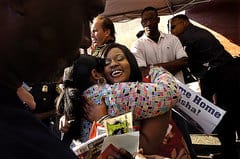 "It's so good to be back here," she said. "Thank you so much for your support and your prayers and the love. My dream has come true."
The American Idol finalist signed autographs, posed for photographs and sang two songs: "God Bless the Child" and her signature Idol number, "And I Am Telling You I'm Not Going."
But it was the city of Flint who owed Jones thanks, said Trey Michaels, rally master of ceremonies and program director at WDZZ-FM (92.7).
"You carried us on your back," he said. "You inspired us. You gave us a reason to believe."
After months of rooting for her, supporters finally got the chance to show Jones their love. It started under a warm sun around noon Saturday at Patsy Lou Buick GMC on Corunna Road in Flint Township, as a smaller band of about 100 screaming, starstruck fans caught first sight of their local sweetheart up close.
"We love you!" "We're so proud of you!" "You are so beautiful!" people hollered out to a beaming Jones, in shiny black heels and a gray blazer.
"Kiki! Kiki! Kiki!" the chants of Jones' nickname began, as cameras and picture phones flashed from all directions during a brief ceremony with Mayor Don Williamson and his wife, Patsy Lou, at the dealership.
Fans jostled to present Jones with gifts of flowers, pictures and even a black Jesus statue.
Later, at Atwood, the mayor presented Jones with a key to the city and proclamation. Patsy Lou Williamson gave her a $6,000 check and six-month free lease on a new Buick LaCrosse. The singer also received a Flint watch, personalized tree ornaments from Bronner's and an oversized card signed by 300 fans.
"(I'll use the money) as a down payment for my new home in Houston," Jones told a TV reporter.
Plenty of fans scored, too. Sharon Wilson, 49, of Davison snagged an autograph and a photograph of herself with Jones, who worked her pen and smile at two meet-and-greet sessions for well over an hour.
"I was successful! (The autograph) is going to hang in my office at work," said Wilson, a manager at Genesys Regional Medical Center. "How often do we have a star like this in Flint?"
Matt Richenthal is the Editor in Chief of TV Fanatic. Follow him on Twitter and on Google+.