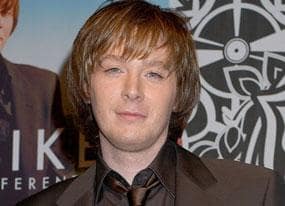 Clay Aiken was involved an odd dustup on an airplane over the weekend.
The former American Idol's midair spat with a woman on a flight to Tulsa, Oklahoma, prompted an FBI query but did not result in any charges, E! Online reports. Here's what allegedly went down:
The 28-year-old singer was on a Continental Airlines flight Saturday morning bound for Tulsa International Airport, when he got into an altercation with a female passenger after she complained about his foot on her armrest.
The woman then supposedly gave Aiken a "minor shove" during the dispute, FBI Special Agent Gary Johnson told the newspaper, but that was about the extent of it.
"At that point, the flight crew was able to resolve the situation," he said.
According to the Tulsa Airport Authority, both passengers were detained until FBI agents arrived to question them. No one was injured in the tussle.
The feds sent the results of its probe to the U.S. Attorney's Office, but since neither passenger interfered with the flight crew, no charges were filed. While performing later that day at Tulsa's Brady Theater, Aiken quipped onstage about getting roughed up by a girl.
His publicist and manager could not be reached for comment.
Clay Aiken is currently in the midst of a nationwide tour aided by local symphonies. It kicked off July 4 in Dallas and wraps Aug. 19 in Orlando.
Matt Richenthal is the Editor in Chief of TV Fanatic. Follow him on Twitter and on Google+.