Great news for audiences that adore Fantasia Barrino in The Color Purple: the American Idol songstress is in talks to extend her time on Broadway with a new show.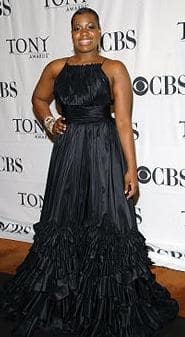 The New York Daily News
says
the singer is negotiating
with the producers of a big musical to be based on the life of Ada (Bricktop) Smith, an African-American expatriate in Paris in the 1920s who became a nightlife queen.
Bricktop's is a great story. She rose from humble beginnings in Alderson, W. Va., to become the toast of Paris in the Roaring '20s, where she was first employed overseas by Cole Porter to teach dances such as the Charleston at his parties.
By 1929, she owned her own nightclubs such as The Music Box, Le Grand Duc and her famous Chez Bricktop, where she entertained Porter, the Duke and Duchess of Windsor, and F. Scott Fitzgerald. Porter wrote "Miss Otis Regrets" for her.
Chuck Seffan's doing the lyrics for the musical, and composer Ron Abel will weave together new arrangements of the era's great jazz standards along with his original tunes.
Abel will announce the project Sunday night at Birdland during a performance of his hits and original music he has composed for the show, to be sung by Michele Lee, Lucie Arnaz, Valerie Pettiford, Billy Stritch and Sally Hayes.
He'll be joined by the show's producers, Paul Lambert and Jonas Neilson - who are also working on a Broadway version of The First Wives Club - with composer Marvin Hamlisch expected in the audience. Barrino's management says she hasn't yet brought the project to their attention and confirm that she will remain in The Color Purple through the end of the year.
Meanwhile, those working on Bricktop hope the show will hit Broadway in early 2009 after a trial run in Chicago.
Matt Richenthal is the Editor in Chief of TV Fanatic. Follow him on Twitter and on Google+.