Isaiah Washington Explains Behavior in Lengthy Interview With Larry King
Steve Marsi at . Comments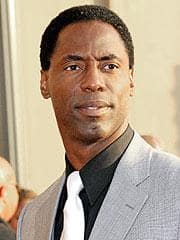 Isaiah Washington blamed co-star Patrick Dempsey's repeated tardiness to the
Grey's Anatomy
set for the infamous blow-up which resulted in Washington using a homophobic slur.
Interviewed last night on Larry King Live, Washington said he regretted that he did not confront Dempsey the first time he was late to the set, so he challenged him when the actor was late again.
But Dempsey wanted to delay the scene more to wait for Grey's star Ellen Pompeo, who plays Dempsey's love interest, before shooting began.
"I said I don't need Ellen, I can act," Washington told Larry King. "And that was the moment that sent it into a different zone."
According to Washington, Patrick Dempsey erupted.
"He became unhinged, sprayed spittle in my face," said Washington, in his first TV interview about the controversy. "I'm asking him why is he screaming at me... He just becomes irate."
That's when Washington said "a lot of things I'm not really proud of."
"I said several bad words," he recalled, quoting himself as telling Dempsey: "There's no way you're going to treat me like the B-word, the P-word or the F-word."
He said that the "F-word" was not meant as an anti-gay slur, but implied "somebody who is being weak."
Washington also strongly denied he ever directed the word at gay costar T.R. Knight, as frequently reported and insinuated by the press.
"I am not homophobic, in no way, shape or form," said Washington.
As for T.R. Knight claiming the slur was directed at him, Isaiah Washington said that is patently false.
"That's a lie. He misrepresented himself," Washington said, suggesting that Knight did that to advance his career and get more money.
"He has been very disappointed in playing the character he has been playing. He told me that," Isaiah added.
But Washington said he felt badly about repeating the slur backstage at the Golden Globe Awards, when he attempted to explain the context in which he used it in the first place.
"I wish I could take that back," Isaiah Washington said.
He became emotional at one point in the interview.
When King asked if any cast members had written him, Washington paused and appeared close to tears when recalling that Sandra Oh had.
Washington attended counseling and finished Season 3 of Grey's Anatomy after the incident, but was released from the hit ABC series a month ago as Preston Burke was written out of the show.
Larry King said on the air that the Grey's Anatomy producers, Patrick Dempsey and T.R. Knight all declined to comment.
Steve Marsi is the Managing Editor of TV Fanatic. Follow him on Google+ or email him here.