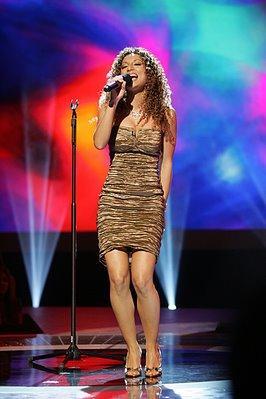 American Idol
finalist
Sabrina Sloan
has been out of the spotlight for a bit. But she recently spoke with Buddy TV. Here are a few excerpts:
First, can you tell us a little bit about what made you audition for American Idol last season?
Yeah, I've been a fan for the last five years watching the show from the first season, and my friends and family were always telling me, "You could be on the show, you can totally compete on that show. You should go audition."
And I was actually in New York, on Broadway, kind of doing my thing but I wanna go, you see every year people get kicked off that should stay, and it's kinda controversial who ends up winning. But I thought I absolutely have nothing to lose, I just really wanna try and get in the show and I decided this year I had to do it.
When you went into those auditions, did you think you had a pretty good chance to move on once you got there and saw the competition?
I did. It wasn't too overwhelming, actually. I flew to Minneapolis from here to audition. I live in LA, but when they were in Pasadena, I was throwing my best friend her bachelorette party in Las Vegas so I missed the LA audition and ended up going to Minneapolis.
And it was still a huge, huge crowd but I actually got really lucky and got in kind of in the first couple of hours and like out by 8 am so it wasn't like the long, long day that I thought it would be and I...I felt like, yeah, I mean when I walked in, you don't know what people sound like necessarily but the characters around you so you kind of feel like, "Well, I've got just as good a shot as anybody else."
One of the things I think viewers don't get to see enough of is the Hollywood week and kind of what happens there, you know. Can you explain to us a little bit about your experience in Hollywood week?
Hollywood week was crazy, cause I watched it on TV too so you just think it's so...you're up all night, it was crazy. And it's intense. It's a little like boot camp, it's a little like, you know, kind of a sorority rush cause you're on lock down in the hotel and you're around people you don't really know, you're rooming with somebody you didn't know before, maybe you just met and day in day out, going up and singing a song and getting cut and like hanging out for the day, like the girls day where they took us out at Long Beach and it was a good four days, five days and by the end of it, it gets really intense during that group daytime when you're working with three or four people trying to memorize lyrics or put together a song, a routine for the judges.
It was a whole lot of pressure and not a lot of sleep and at that point everybody really wants it bad because everybody gets into Hollywood thinks they absolutely belong in the show so it gets really competitive at that point.
To read the full interview, click here.
Matt Richenthal is the Editor in Chief of TV Fanatic. Follow him on Twitter and on Google+.