The start of the "American Idols Live!" tour was just a little over a week away, and Sanjaya Malakar was raring to go when he phoned in for an interview.
Whether he knew the exact date of the first show might have been another issue.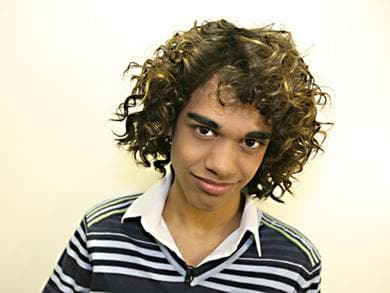 "I'm really excited about the tour. It's going to be a blast," he said. "We've been doing rehearsals for the past, a couple of days, I think. I don't know, I have kind of a warped sense of time now."
Malakar can be forgiven for losing his bearings a bit. Since his debut on the mega-popular talent show American Idol last spring, his life has been the epitome of a whirlwind.
He didn't win the competition. In fact, he was voted off the show in April and finished seventh. But that doesn't change the fact that Malakar was the story of "American Idol," season six.
On the one hand, Malakar quickly built a fanatic following — especially, it seemed, among young girls drawn to his charismatic stage presence, boyish good looks, and of course, his full mop of hair, which turned out to be one of the biggest topics of discussion as he changed styles from episode to episode. One audience member, Ashley Ferl, even made a name for herself after cameras caught her bursting into tears whenever Malakar was on stage.
But many others weren't at all impressed. A "Vote for the Worst" Web site that supported voting for Malakar to sabotage the show became news nationwide. Howard Stern started a similar campaign on his radio show.
Malakar was also savaged in the media (the Washington Post labeled him a "talent amputee"). The always-blunt "Idol" judge Simon Cowell at one point said he would quit the show if Malakar won.
So while this summer's tour may be headlined by the winner of this season's competition, Jordin Sparks, and runner-up Blake Lewis, the top drawing card may well be Malakar.
Click here to continue reading this article from The Herald-Tribune...
Matt Richenthal is the Editor in Chief of TV Fanatic. Follow him on Twitter and on Google+.