Tim Kring, creator of Heroes, recently sat down with Superherohype.com. Here's what the writer had to say:
Q: Is everyone coming back for Season Two?
Kring: Well, I don't want to spoil that for the fans. Clearly we left things up in the air with several of the characters and we want to make sure that the fans don't know what's going to happen so that it doesn't spoil their [enjoyment].
Q: You said 24 episodes. Does that mean no one really died?
Kring: Again, you really just have to wait.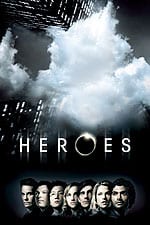 Q
: But you're keeping them available so you can bring them back?
Kring
: Exactly, they're all on retainer just in case they're needed. [joking]
Q: You have at least eight new or recurring characters. How has it been integrating them in the writing?
Kring: A lot of it was planned for and felt fairly natural. So it's a big cast. One of the things that we are doing this year, because we're not asking the audience to start absolutely from scratch, we're not so concerned about every episode having every single character in it. So we're able to sort of pull back in the ebb and flow and let certain characters come to the surface for an episode and sit out an episode.
Q: Are you talking more about episodes like "Company Man" where it's focused on one story?
Kring: Yes, exactly. The idea of being able to focus on a couple of characters is something that we really learned last year as a very valuable thing to do, but you had to have earned enough interest in those characters to be able to then focus on them.
Q: How are you creating feudal Japan in modern day Los Angeles?
Kring: Well, as we know, Los Angeles has doubled for many, many things. On this show it's doubled for a lot of things. So it's a fairly, I will say, rural view of feudal Japan which allows us to use a lot of the outlying areas like the Santa Monica Mountains and north of here.
Q: Are you going to do anything this season for fans who didn't watch last season to be able to jump in and understand what's happening?
Kring: Yes, that is a big part of what we're doing. I mean, one of the things that I sort of learned in the first season was that we called season one Volume One and it was entitled "Genesis." It just happened to be twenty three episodes long. Volume II is entitled "Generations" and it by no means has to be an entire season long. I wouldn't expect it to be an entire season long.
In fact we're looking at that volume to end in the middle of the season which allows us to wrap up certain stories and allows us to have new stories begin. So you don't get a sense that if you jump on the train that you're aggressively being pushed off of the train because you don't know what's going on. That's a big concern with us.
Q: Do you see the second season as being two big archs or do you not know yet about the second half?
Kring: Well, it's designed to be three. We'll see how that works out.
Q: So will there be some kind of recap for people who didn't see last season?
Kring: Only slightly because the actual episode itself, it's an episode entitled "Four Months Later" and so we pick up the stories four months after we left off at the end of the season. There is tremendous mystery in what happened during those four months and that's part of why you're watching these first few episodes. They're revealing what actually happened. So the recap, in a way, is sort of built into the story.
Q: How do you feel about the mixed fan reaction to the finale?
Kring: I didn't really experience the mixed fan reaction. I heard anecdotally that people loved it and clearly on a show like this, again this is one of the problems with a big serialized show which is that by the time you get to twenty three episodes in you're dragging a tremendous amount of story behind you. So when people wait that long for answers it gets very hard to satisfy people.
This is another reason why I think these volumes are really the way to go because it allows us to not have people build up expectations for so long as to how things are going to be resolved. When you build up for a whole year with a show like this it has an addictive quality to it and so it has to really pay off. Sometimes those expectations are too high for a mere television show.
To read the entire interview, click here.
Matt Richenthal is the Editor in Chief of TV Fanatic. Follow him on Twitter and on Google+.