Jordin Sparks was the definitive winner of this year's American Idol competition, but her group of competitors might be losers overall.
The American Idols Live tour that lands at Xcel Energy Center in Minnesota on Saturday appears to be limping into town, despite the high-as-ever ratings for the TV show last spring. Ticketmaster's website shows good seats still available in the lower level of the St. Paul arena, including floor seats in the first 20 rows.
On eBay and other online outlets, tickets have been selling for rock-bottom prices for weeks (well before Thursday's bridge collapse in Minneapolis). A pair of seventh-row floor seats sold for $5.25 on eBay (face value: $70 per ticket), and many other pairs are selling for under $10.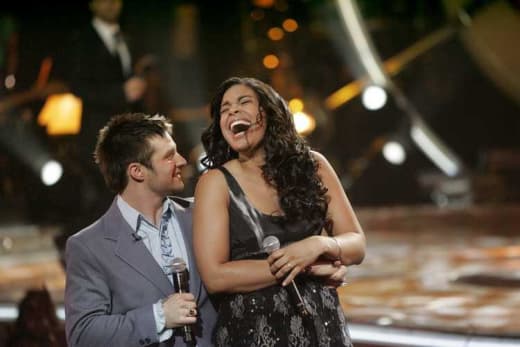 Blake Lewis and Jordin Sparks please the crowd with a duet.
The American Idol tour makes it a bittersweet week for ticket brokers, who were in the clear to profit on the show after ticket scalping became legal Wednesday in Minnesota.
"This has been the weakest seller so far" of all the Idol tours, said Ticket King co-owner Brian Oberst. "It comes down to who the Idols are, and this year nobody seems to care about them."
Saturday's ticket sales have a long way to go to match the sellout crowd of 16,685 at last year's American Idol show at the X, featuring Taylor Hicks and Chris Daughtry. The 2004 year with Fantasia was a poor seller, but all other years have drawn over 12,000. Arena reps remained hopeful this one would do the same.
"We fully anticipate this show being as successful as the previous ones," said arena spokesman Peter Johns.
Matt Richenthal is the Editor in Chief of TV Fanatic. Follow him on Twitter and on Google+.