The website Buzz Patrol recently caught up with Sabrina Sloan, American Idol season six finalist.
Follow our link to read the full interview now - and check out some highlights below.
Buzz Patrol: OK, first and foremost, you were robbed! In retrospect, do you think you would have gone further in the competition if you'd worn short shorts [ala Haley Scarnato]?
Sabrina: Haha! You know, that is possible. I was just getting ready to pull them out before I went home. It's funny since Haley was my roommate during the show.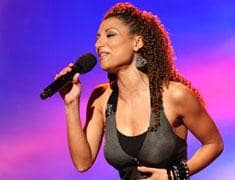 Buzz Patrol
: Other than the shorts then, do you have any regrets over doing
American Idol
?
Sabrin
a: Regrets? No! I was hesitant going into the competition because a lot of my Broadway friends back in New York couldn't even get past the preliminary stages to meet with the judges. You know, though, the competition is about a lot more than singing. Popularity is a big part of it.
Buzz Patrol: Well, moving past American Idol, I'm told that you are currently recording a cd. Would you like to tell our readers about it?
Sabrina: Sure! I am doing a project with Sundance Head for Motown Records. Since we both did our exit interviews together, the execs thought that our voices and fan bases would blend well. The cd is basically a soul album that contains a number of covers re-arranged to become duets, though we do have one or two original tracks as well. The cd is due out in November.
Buzz Patrol: Any favorite tracks?
Sabrina: Yes, the Isley Brother's "For the Love of You." It's sort of an Outkast meets Al Green kind of arrangement.
Buzz Patrol: So speaking of music, who are your biggest musical influences?
Sabrina: I grew up loving Mariah, Whitney, and Prince. Personally, I would love to be a kind of female Justin Timberlake. I love his sound, the whole urban hip hop genre.
Buzz Patrol: In light of troubled musicians like Whitney, do you have any thoughts on young pop musicians like Britney, Lindsay, and Amy Winehouse and the current trouble they all seem to find themselves in?
Sabrina: Well, looking at them, it makes me feel lucky that I didn't start out singing as a child. I mean, I sang from an early age, but I wasn't put into the business. This industry is too demanding for a child, being told what to do all the time and not being allowed to have an actual childhood. And now look; they are just doing whatever they want! It's like they are taking back their childhood they never had.
Personally, I have an awesome family and a wonderful support base. I have a husband who is not in the industry, and I think that's important as well. He is very supportive of what I do and there is no clash of egos. I mean, I'm a performer; we're supposed to be dramatic!
Matt Richenthal is the Editor in Chief of TV Fanatic. Follow him on Twitter and on Google+.