Thousands of people hoping to be the next Kelly Clarkson, Jennifer Hudson or even Sanjaya lined up outside Qualcomm Stadium on Monday as auditions for the seventh season of American Idol began.
Some brought makeup kits, Starbucks cups filled with throat-clearing salt water and even karaoke machines. Others came before dawn, armed with sleeping bags and pillows.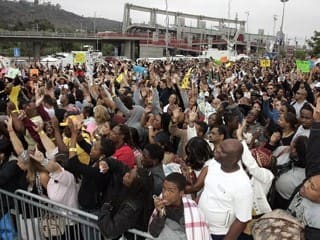 "Why wouldn't I get here early? My No. 1 goal is to be on the program," said Lonnie Beatty, 20, who spent the night on a trolley platform just outside the stadium grounds in order to be one of the first in line.
A publicist for the show said 12,000 people showed up for their chance at stardom.
John Edward Carey, 27, was one of the lucky few rewarded with a ticket to the second round of tryouts.
The custom guitar builder and post-punk rocker from Van Nuys, near Los Angeles, made it to the final 25 last year on his first outing and said he decided to give it another shot after dropping 35 pounds and getting an encouraging e-mail from a producer.
"Last year I thought, 'I want to make it to the top 50,' and I did," Carey said after his tryout. "This year I want to make it to the top 10. This year I want to win it!"
His wife, Annie, said she pushed her husband to audition after listening to him criticize contestants on the show.
"He kept saying, 'I can sing better than that,'" she said. "So finally I just said, 'Fine, you go audition and stop interrupting my show!'"
Would-be contestants began lining up at 3 a.m. They had already spent hours in line over the weekend waiting to register for wristbands to get into the tryouts: neon yellow for singers, slate gray for supporters.
"I haven't slept in two days," said 16-year-old Jessica Schaffer of Temecula, explaining she drove around all night until she was allowed into the stadium grounds.
With the Comic-Con entertainment expo drawing a record crowd of more than 120,000 to San Diego over the weekend and thousands more in town for a sandcastle competition and an international youth soccer tournament, American Idol hopefuls who wanted some shut-eye resorted to the classified Web site Craigslist.org or even military bases for beds.
Click here to read the rest of this ABC News story.
Matt Richenthal is the Editor in Chief of TV Fanatic. Follow him on Twitter and on Google+.