The following is a review of a recent Carrie Underwood concert in Canada, courtesy of The Edmonton Journal...
The longer Carrie Underwood performed, the younger the crowd got at the Big Valley mainstage Saturday night.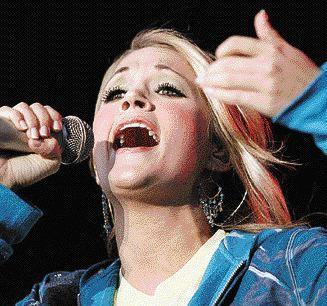 No one since Shania Twain has perfected the country crossover as well as the 2005
American Idol
winner, who drew scores of teenagers to the Jamboree grounds.
But her country-pop style didn't do it for everyone - Underwood's success has largely come thanks to the strength of her pipes, which let her sing just about any genre well, be it country, rock, pop or even gospel.
And while her vocals were impressive, older traditionalists who prefer pure honky tonk dispersed soon after getting what they wanted from cowboy crooner George Canyon, who finished playing his set half an hour earlier.
Still, the concert bowl remained packed for Underwood, who put on a good show but was still very much an American Idol, wanting to please everyone by being everything. The show became a rock concert halfway through her set, with Underwood stamping her feet to a cover of Guns n' Roses' Sweet Child O' Mine.
Peculiar.
No matter, though: from there, Underwood segued into the song everyone was waiting for: her hit single Before He Cheats. When she finally performed the girl-power anthem, thousands of fans sang along.
But the minute the song ended, even more concert-goers filed out, not bothering to see what would come next. It was only a little bit past 10 p.m. - still very early here on Jamboree Time.
It's not that Underwood isn't talented.
The music was all there, but when the guitars quieted down between songs, fans got little of Underwood, the sweet girl next door they met on TV.
She said little and when she did, it was barely audible. Her smiles were rare and she looked more like a diva than someone having a good time.
Diehard Underwood fans didn't care - it was enough just to see their idol. But for those who don't care for reality television, it was hard to find reason to stay.
Underwood just wanted to get offstage. They just wanted to warm up back in their campers and put on some Johnny Cash.
Matt Richenthal is the Editor in Chief of TV Fanatic. Follow him on Twitter and on Google+.