Nikki McKibbin thought her dreams for stardom were about to come true when she won a spot on the 2002 inaugural season of American Idol.
Each week, millions of viewers watched as the 23-year-old Grand Prairie singer made her way to third place, right behind winner Kelly Clarkson and runner-up Justin Guarini. But for McKibbin and many other American Idol contestants, being successful on television and even signing a recording contract didn't bring instant stardom in the real world.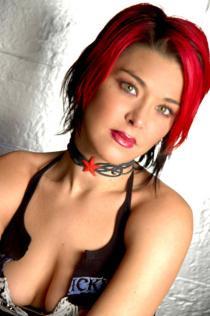 After the show, McKibbin, who had established herself as a rocker during the TV competition, was given a recording contract with a major label, RCA Nashville. But she refused to record the country-pop songs pitched to her, and, for the next three years, she made a living waiting tables and participating in five other reality programs, including
Fear Factor
and
Popstars
.
Finally, in 2005, with the help of a lawyer, she got out of her RCA contract and went the independent route.
Her debut CD, Unleashed, was released in early July on California's small Chenoa Records.
"As far as the show goes, and building an incredible fan base, of course it was a blessing," the 28-year-old said last week. "I wouldn't be able to do that without the show. The curse was not letting me musically do what I wanted to do and not letting me be what I am as an artist. I wasn't going to sell out and not do what I wanted to do."
New American Idol Auditions
Today, thousands of hopefuls will descend on Texas Stadium for the same shot that brought McKibbin to households across the country.
Ironically, American Idol, the gargantuan franchise that attracts about 30 million viewers per episode, isn't always a foolproof star-launching machine. Even for the show's winners, success has not come easily, especially where album sales are concerned.
Just consider the numbers behind the two biggest Idol sellers, Clarkson and Oklahoma's Carrie Underwood. Ms. Clarkson has sold about 9 million discs combined for her three albums, while Ms. Underwood's one CD has moved 5.8 million, according to Nielsen SoundScan.
So where is the fan disconnect with those 37 million votes each week? And why doesn't such a rabid pop-culture phenomenon, which leads to everything from water-cooler talk to widespread wagering on potential winners, translate to CD sales? This is, after all, a show designed to crank out popular music sensations.
"It's one thing to stay at home and watch a really good TV show," season five finalist
Bucky Covington
said. "You can pick up the phone and even vote. That's a great thing 'cause I've never picked up a phone and voted. But it's still different from going out, picking up an album and buying it. It's just a good TV show, and a lot of people watch it for that fact."
Emma Hawthorne of Dallas got to Texas Stadium at 3 a.m. Saturday for her American Idol audition. But if waiting is exhausting, it's nothing compared to what those who make it to the televised finals in Hollywood will experience, says a former contestant.
"I'm a big fan of Carrie Underwood, but she put out three singles before I went out and actually bought her album."
Click here to continue reading this article from The Dallas Morning News.
Matt Richenthal is the Editor in Chief of TV Fanatic. Follow him on Twitter and on Google+.