In an exclusive behind-the-scenes look at the set of Grey's Anatomy, USA Today's William Keck lends his observations of what goes on that we don't see...
Sandra Oh looks sleepy, wrapped in a parka and heading to her chair. Hers is special compared with all the others' standard-issue director's chairs. Oh's has extra padding, a fancy curved foot rest and a canvas compartment under the seat. While the other actors have their full names silk-screened onto the backs of their chairs, Sandra Oh's is marked with two block letters: OH. She never talks to on-set journalists, but she offers a friendly late-in-the-day wink as she walks by.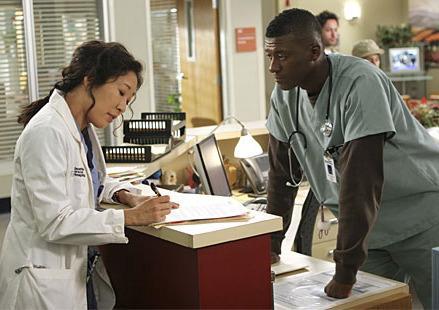 Trailer mates
Justin Chambers (Alex Karev) shares his trailer, or "tin box," as he calls it, with Katherine Heigl (Izzie Stevens). "I hear her loud mouth all the time �" girl's got a loud mouth," he kids. Heigl slams right back: She says she has to listen to "trailer buddy" Chambers' daily doses of Judge Judy or Montel Williams. "I think he falls asleep with the TV on," she playfully groans. Chambers has more expansive digs off-set. Over the summer he purchased a California home with his wife Keisha. Each of his five kids now has his or her own room!
Cute little cuss
Sandra Oh has a habit of playfully cussing in scenes when she's not on camera, at one point asking Ellen Pompeo, "What the (expletive) was that?" and calling Pompeo's Meredith "a whore." Says T.R. Knight (George), who shares his on-set trailer with Oh: "She has done that, always."
Busy, busy
Pompeo, dressed in a gray sweater, starts her day drinking coffee, writing checks and handing receipts to an assistant, whom she promises to reimburse $20 for gas. She chows down on food all day. Before lunch, she's dipping donuts in another cup of joe. After lunch, she runs off to find a stick of gum to get rid of her burrito breath.
Hair today
Jokes about Patrick Dempsey (Derek) keeping his hair perfect. When there's a delay between takes, Dempsey displays some of his cellphone photos to Pompeo and Oh. Then Pompeo warns the crew, "We've really got to get going. Patrick's hair is falling." Later in the day, after Dempsey has spent time relaxing, Pompeo asks, "What's wrong with your hair?"
The doctors are in
The assignment board lists Knight's George O'Malley as one of the current interns �" a good sign for the character, who was last seen failing his intern exam and packing up his locker. The other names of physicians, specialists and interns written on the board aren't random: They're Grey's Anatomy crew members.

Working overtime?
During one new scene, the ambulance is driven by a man who identifies himself as "Mike," with a shaved head, goatee and heavily tattooed left leg. He also was Sara Ramirez's (Callie) date at the previous evening's Emmy parties, and the two are spotted talking in between takes.
It's golden
Still beaming from her Emmy win, Heigl says her new statuette is on an end table but tomorrow will be transferred to the mantel. "It's visiting new locations every day to see where I like it best," she says with a laugh. Her fiancé of more than a year, singer Josh Kelley, whom she plans to wed over the holidays, is on tour. But he was the first person she called!
Private ceremony
Kate Walsh, now of Private Practice, keeps in touch with many of her former cast members; she invited nearly all of them to her wedding September 1 in Ojai, Calif. Absent from the Kate Walsh nuptials were Patrick Dempsey and Ellen Pompeo. "I wasn't invited," Pompeo says with a shrug. "But I'm sure there's a lot of family, and she can't invite everybody."
Steve Marsi is the Managing Editor of TV Fanatic. Follow him on Google+ or email him here.