Great timing by Entertainment Weekly: the fun magazine has Carrie Underwood on its cover this week, always apt if you're an American Idol or country music fan.
But especially appropriate these days, as Carrie is in the news a lot for dating Gossip Girl star Chace Crawford.
That relationship wasn't covered in the interview. But the following was...
Some Hearts had a handful of pop songs, while Carnival Ride absolutely sounds like a country record the whole way through.
The first one definitely had a different purpose to serve. I'd gained a big following from Idol of people who were not all country-music listeners. I want to be a country artist in a country world with country fans. We had to figure out a way, even if they're not country-music fans, to make them country-music fans.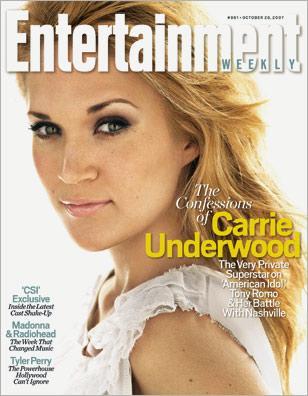 You co-wrote several songs on this record, compared with only one the first time.
I'm so new at the writing game that I just wanted to see what I could do. I'm not sure if I could sit down and write a whole song by myself. A lot of people write throughout their lives and then if they get a record deal, they have material. I never thought I'd be in the position I'm in now. So I never tried to write.
Have you ever had singing lessons?
Years ago I got together with a voice coach briefly and I hated it, because I felt like they tried to change things that, like, would make me me, you know? There's been a lot of growth over the past two years. I think I sound different now. I've gotten a lot more practice and everything's just gotten easier.
Like, notes that I could barely hit for the first album — like, ''Oh my gosh, this is gonna kill me'' — are a piece of cake now. We're on to new notes now that are way in the stratosphere. On [Carnival's] ''All-American Girl,'' the high note is the highest I've ever hit.
How do you prepare for all the scrutiny that'll surely be placed on you as you release your follow-up?
It's already been placed on me and the album. It's more annoying than anything. I've learned this, that haters wanna hate. You could sing a song perfectly, you could write the songs perfectly, and some people are absolutely going to hate you. I heard, like, on live shows, people thought I was lip-synching.
Which, I guess, hey, if they think it sounds that good that they think I'm lip-synching, I'll take it. Whatever. I know there's a certain point where I have to just be like, ''Forget it, I don't care.'' And I do care.
On Amazon.com, all these user reviews say...
''She's not country.'' [Makes raspberry noise and sticks her thumbs down] Okay, here's my thing: On Top 40 stations, nobody cares that you'll have Fergie next to 50 Cent. They're different. Why can't you have me next to somebody that's more traditional country? You can call me ''not country'' until your face is blue, but I sing country music.
Is it true that your label asked you to record pop versions of some of the country tracks on Some Hearts, like ''Before He Cheats,'' and you said no?
I didn't have to put my foot down, thank goodness. I hate it when country artists do that. You're listening to a song on one station and you turn it and you hear a different version? It's like, ''All right, it's not good enough for everybody this way, so let's change it to make it good enough.''
But Shania Twain recorded pop versions of all the songs on Up! and it made her a superstar.
I liked the original country version. On all the ones that she redid.
Click here to read the rest of the interview.
Matt Richenthal is the Editor in Chief of TV Fanatic. Follow him on Twitter and on Google+.