Chris Daughtry and his band performed at the University of Alabama Friday night. The school's newspaper, The Crimson White, had a chance to speak with the former American Idol finalist...
"Who am I? I'm just a normal dude that got lucky, I guess," said Daughtry on Friday night, just before he was to perform.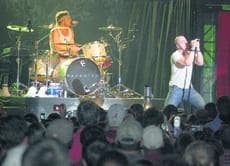 "I've been doing this for eleven years, playing the same bars over and over for the same people, and I finally got my break,"
Daughtry
said, referring to his appearance as a finalist on American Idol.
Throughout the interview, Daughtry continued to emanate that same sort of humble attitude, though he admitted that his musical ability and perseverance played a part in his rise to fame.
"I decided [if] people aren't coming out to see me, you know, from record labels, I might as well go get seen," he said, pointing out that had he not auditioned for American Idol, he would likely still be an unknown playing in bars.
Being from North Carolina, it would be only natural for Daughtry to be included in the football-obsessed masses that make up a significant portion of the population of the region. But somehow, Daughtry said, that never happened.
"It's weird," he said. "My whole family is into sports, football, basketball, baseball, and actually it's something I never really got into. I don't really know why. I just never really got sucked into sports."
Daughtry was quick to say that even though he is not actively interested in sports, he also does not actively dislike them.
"Being at games, I always enjoy them," he said. "It's always a lot more fun being there than, for me, watching it on TV."
Daughtry said when he was growing up, rather than being involved in sports, he would draw.
"I was always drawing," he said. "I was a nerd. I was reading comic books. I thought that's what I was going to do, like be a comic artist."
Click here to read the rest of the article.
Matt Richenthal is the Editor in Chief of TV Fanatic. Follow him on Twitter and on Google+.