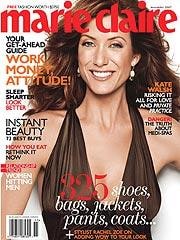 Despite the trepidation that normally goes along with such an age milestone, Kate Walsh says she had no such angst about
turning 40
.
"Probably, honestly, I would have cared more if I were still single," the Private Practice star says in the latest edition of Marie Claire.
"I have also been working through all the big things you grapple with as a female, such as family and fertility, a career. I feel I'm in a place of peace in my life that 40 feels like a great marker of a great year."
Kate Walsh let actually the idea of marriage go - until she met Alex Young, 36, a co-president of film production at 20th Century Fox.
You could say they hit it off. Kate Walsh and Alex Young moved in together just a month later, got engaged in May, and were married by Labor Day.
"I met him, and I knew unequivocally," Kate Walsh says. "Is that strange? I used to want to hit people who said, 'You know when you know.' It made me want to throw up. But I'm the annoying one now."
The Private Practice star describes her new husband as "super-intelligent, super-smart, very handsome" and "a true gentleman."
Just as important, she says, is
Alex Young
's curiosity about the world.
"It's so easy to be cynical, but it's not how he lives," she says. "I've always known I've needed someone who lived from his heart."
Kate Walsh says she doesn't know yet if they will have children.
That's another thing, like her age, that the former Grey's Anatomy cast member refuses to worry too much about.
"I realized that I didn't want to have a child badly enough to do it on my own. Now I have a great guy, and maybe we'll have kids and maybe we won't," the actress says. "I don't know. I'm not interested in cramming it all in. I don't think that's a healthy way to live."
Nor is obsessing over your looks, she says, as you get older.
"I went through a phase last year where I obsessed over my every flaw," she says. "I'm so happy I got through it and didn't take any action. Because it was just the regular anxiety of, 'It's weird to age.' My body changed at 35 and 37. Everything  droppe. This is pretty much how it's going to be for me, right here. I enjoy life, and part of that for me is eating."
Steve Marsi is the Managing Editor of TV Fanatic. Follow him on Google+ or email him here.