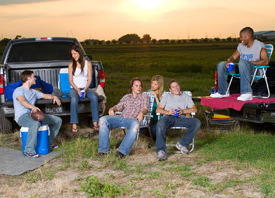 Kristin Veitch of
E! Online
isn't going to suggest that you start watching Friday Night Lights if you don't already. She's flat-out
ordering you to
.
The TV reporter just returned from visiting the Friday Night Lights set in Austin, Tex., where she learned what a unique television series Friday Night Lights is, and that the actors who bring it to life are some of the sweetest, most grounded people you could ever hope to meet. She writes:
~~~~~~~~~~~~~~~~~~~~~~~~
I spent the day in Austin at the Taylor home, which is actually a real house in a Dillon-esque suburb, and it didn't feel like work at all but rather like hanging out with a very cool family who legitimately like one another.
These guys are clearly having a good time, from Kyle Chandler (Eric Taylor) and Taylor Kitsch (Tim Riggins) cracking each other up between takes, to Aimee Teagarden (Julie Taylor) joining in giggly fun when the crew began sucking air from helium balloon props to Scott Porter (Jason Street) and Kevin Rankin (Herc) razzing each other while talking about — what else — football.
And, oh yeah, how could I forget about Kyle Chandler taking orders and cooking up bacon and eggs for the whole crew while shooting the day's breakfast scene!
But that's not to say these guys aren't busting their backsides. Friday Night Lights is produced in an entirely different way than any other show on TV, because there are no rehearsals.
Very often, the entire script can be thrown out the window.
So, there is no room for slacking. The actors have to be on their toes — and ready to improv — at a moment's notice. Even while on set, surrounded by cameras and lights, there were moments I honestly forgot the situation wasn't real and the people were actors — a true testament to their talent.
Actress Jessalyn Gilsig (Nip/Tuck) was on set — guest-starring for six episodes as the sister of Connie Britton's character, Tami Taylor — and told me with huge, excited eyes that the production process is "insane!"
Her scene in the Taylor casa was supposed to revolve around yoga, but once they started shooting, the director chucked the yoga angle, and the actors improvised the entire scene. "This is the reason I'm such a huge fan of the show," Gilsig told me. "They are doing what no one else is doing."
You can see that very fact for yourself when you tune in to the second episode of Season Two of Friday Night Lights on Friday at 9 p.m. on NBC.
Matt Richenthal is the Editor in Chief of TV Fanatic. Follow him on Twitter and on Google+.