As fans gather in our forum to discuss each character and story line, the Friday Night Lights Insider staff has come together to share our thoughts on the third episode of Season 2 of the best show on TV in a round table format.
The Round Table discussion topics for "Are You Ready For Friday Night?" include Riggins' world of problems, Coach's return and Street's future ...
1. Worst player of the night: Saracen (rough game, costly INT in 4th quarter) or Riggins (lost MILF neighbor to older brother, failed smooch of Lyla)?
pantherpride4lyfe: Riggins. This was a tough stretch for the troubled fullback, although a three-way with some rally girls is never far away if he needs it.
ClearEyes: Matt Saracen, but not for his in-game performance. You can't tackle a teammate on the field, in front of fans, after a victory. Even Terrell Owens would agree that's just poor form.
Saracen7: Much as it pains me, I've gotta take Matty. His head was just not in the game against the Rattlers, and his outburst against Smash - annoying as he was being - can't be justified. These two have to get their acts together quick... if not for the Panthers, for the good of the Tasty Freeze work environment.
2. Is Tim actually converted, or just trying to get Lyla into bed?
Saracen7: This scene was one of my favorites. Was it just a line, as she says? Or was a lost Tim just grasping for any sense of belonging? Who knows. He leaves you wondering as he puts the move on Lyla. I'm really interested to see how this plays out... the more I see these two interact, the more I like Tyla.
ClearEyes: The latter. I don't believe Tim is thinking, "Oh, God, He helps me through difficult times." He just wants to be screaming, "Ohhhhh, God!"
pantherpride4lyfe: Not sure about converted, but I think he meant what he said to Lyla about feeling like he was a part of something, a part of her. In Tim Riggins fashion, though, he predictably blew it with that advance. Sigh.
3. More likely to happen in Mexico: Street undergoes successful surgery, or Riggins tries to procure underage girls?
ClearEyes: Street's surgery will be a success, but not because it will put the former football standout back on two feet. Instead, the surgery's failure will help Jason accept his new, wheelchair-bound lot in life. Only then can he begin the true healing process.
pantherpride4lyfe: Not that I expect either to happen, but I'm taking Riggins here. Experimental stem cell surgery in Mexico? That's not sketchy at all. Also sketchy at times? Tim Riggins. Do you trust this guy south of the border?
Saracen7: Here's hoping Jason Street gets a break, although I fear he will just encounter danger and disappointment. Either way, I hope this young assistant returns to the sidelines pronto. He's getting a raw deal from the new coach!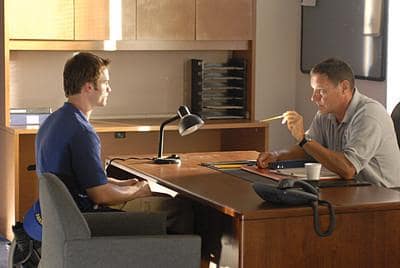 4. The writing's on the wall: Eric will be back in Dillon soon. How will he be reinstalled as Head Coach of the Panthers?
pantherpride4lyfe: His generally sadistic nature and obsession with torturing Riggins have drawn the ire of many fans - including Buddy Garrity - already. One slip up at a key moment will get this unpopular taskmaster the axe.
Saracen7: Well it probably won't be the Panthers' failures on the field. The new coach actually made a nice call with a direct snap to Smash to salvage the 7-0 win opening night (another very believable final score and sequence). But with the Tennessee Tyrant, you have to think his temper will be his undoing.
ClearEyes: Buddy Garrity is a man with connections. One call to The Haitian from Heroes, one town meeting between him and the good people of Dillon and no one will even remember Coach Taylor left in the first place.
Matt Richenthal is the Editor in Chief of TV Fanatic. Follow him on Twitter and on Google+.