As fans gather in our forum to discuss each character and story line, the Friday Night Lights Insider staff has come together to share its thoughts on the latest episode of Season 2 of the best show on TV in a Round Table format.
Round Table topics for "Let's Get It On" include the Panthers' last-second win, the heroics and troubles of Landry, and the (hot, and wet) adventures of Jason ...
1. More uncomfortable: an interrogation from Landry's father, or receiving romantic advice from Coach Mac McGill?
pantherpride4lyfe: Coach Mac. That's as uncomfortable as it gets. Landry's dad? That was more like terrifying. I was nervous and sweating just watching Landry and Tyra in their respective conversations with the Dillon policeman.
ClearEyes: Coach Mac's advice. I can't ever look at a zone blitz the same again.
Saracen7: While no one wants Mac talking about getting "back in the saddle," I think most people would take it in a second over crossing Landry's pop.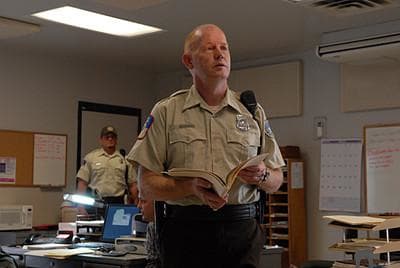 2. Does the Panthers' dramatic win signal a return to Dillon's winning ways, or was it merely a lucky break in a tumultuous season?

Saracen7: Thanks in no small part to Landry, stars Matt and Smash are focused now on the task at hand: a drive for back-to-back state titles. I think they'll do it.
ClearEyes: While the win may have hinged on a controversial pass interference call and a lucky break on a fumble, the newfound cohesiveness of the team can only lead to more Panther Ws in the future.
pantherpride4lyfe: Good question. Their 2-1 record is a bit misleading, as the Panthers have looked sub-par in each of their three contests to date. Of course, a few 200-yard games from Smash Williams could change that in a hurry.
3. Bigger miracle: Street making it to the beach after throwing himself off the boat, or Lyla and Tim showing up in the truck immediately after?

ClearEyes: Street. The guy has no feeling in his legs! Talk about shoulder strength.
pantherpride4lyfe: Jason's swim to safety. His sudden moment of clarity surely gave him an adrenaline boost, but still. That's some upper body workout.
Saracen7: Tim and Lyla appearing out of nowhere. Even if the booze cruise was just about to return to shore and they parked right at the dock, that was fast!
4. Where will Landry's motivational, tear-inducing halftime speech go down in the annals of poignant moments from sports movies / TV?

pantherpride4lyfe: It's top five for certain. Jesse Plemons is terrific in giving Landry such awkwardness, sincerity and heart. Only a few sports scenes - such as Ray and his dad playing catch in Field of Dreams or Rudy's groundskeeper friend telling him he's already a winner on and off the field - can compare.
Saracen7: The Gettysburg Address, it wasn't. But Landry Clarke's appeal to his embattled teammates to man up was enough to bring a tear to this fan's eye.
ClearEyes: If Jimmy Chitwood never told coach, "I'll make it," before nailing the game-winner in Hoosiers, Landry would be competing with Rudy for the top spot.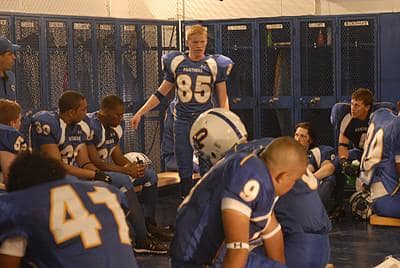 5. How hot / strange was the scene at the Mexican cantina at the end?
pantherpride4lyfe: Such mystery and intrigue with the two best friends who've been through it all and Lyla, who finds herself torn in different directions. If you missed it, you have to watch the video of this... great soundtrack, too.
Saracen7: I swear, only Friday Night Lights would attempt - and be able to pull off - a scene like that. No words were exchanged, but volumes are spoken.
ClearEyes: The only thing that would have made it stranger would be if John Mayer had come in and bashed Riggins and Street over the head with a guitar.
Matt Richenthal is the Editor in Chief of TV Fanatic. Follow him on Twitter and on Google+.