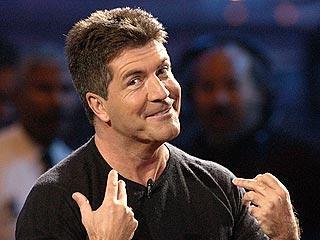 In a candid interview with
London's Daily Mail
, Simon Cowell revealed the following interesting facts and responses:
He's vain!
"To be honest with you, I can't think of one person who is on TV who isn't vain. It's the nature of the beast. If you are on TV then you have a vanity, for sure. Just admit it! Why not?"
He's had Botox!
"Yes, I've had Botox, but not in an obsessive way. Then again, every guy I know who works in the city has had it now."
He's not gay!
"If I was [gay], why hide it? It's not as if the music business would be an odd place for a gay man to work. And anyway, if I was trying to hide the fact that I was gay, I would be off playing rugby every Saturday, wouldn't I?"
He doesn't want kids!
"I love kids - at least when they are old enough to talk. But my own? No. I'm terrified of the responsibility. Where would they fit in? I have to be able to fly to Los Angeles at a minute's notice."
He doesn't want to get married!
"People think there is something suspect about Terri and me. Why? Just because I don't want to get married?"
Matt Richenthal is the Editor in Chief of TV Fanatic. Follow him on Twitter and on Google+.