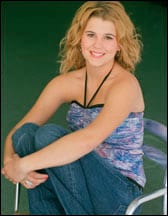 It's been hinted at for several weeks, but there is now insider confirmation that Georgie Jones (Lindze Letherman) will be the next victim of the mass murderer lurking around Port Charles.
Last month, Natalia Livingston (Emily Quartermaine) met an untimely death at the hands of the killer. Unlike Livingston, though, who will continue to make General Hospital appearances as a spirit, Letherman will be gone right after her character is offed.
For awhile now, General Hospital's writing team has been unable to come up with story lines of relevance for Letherman since the exit of her on-screen love interest, Scott Clifton (Dillon Quartermaine), earlier this year.
This seems like the best way for the show and the actress to go.
Matt Richenthal is the Editor in Chief of TV Fanatic. Follow him on Twitter and on Google+.